Square Card Case Becomes 'Pay With Square' – Launches on Android
Square is trying to make it easier to pay with your phone and to find places where you can do so. The startup released an update to Card Case that changes the name to Pay With Square. The new app ditches the credit card metaphor in favor of making discovery easier.
Pay With Square performs the same task as Card Case, it lets customers buy items in stores without having to hand over money or cards. Now, however, instead of finding a store that uses Square by happenstance, users just need to open the app.
The new Pay With Square includes a list of nearby businesses that use Square for payments so you can find them easily.
Square uses geofences to mark the location of each store, and it will alert you when you're within one of those imaginary fences. If you are, just tap the "Open Tab" button and order what you want. The cashier will then directly bill the credit card you put into the app. At most you'll just need to give them your name.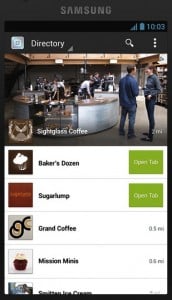 If you find a store that uses Square you can share it with your friends on Twitter. It's almost like Foursquare, just without the perks for checking-in. If you don't want everybody knowing about that cool new café, you can use the app to send an email to just a few friends instead.
Pay With Square is now available on Android for the first time, so the fun isn't limited to iPhone users anymore. That's good for Square because it can get more users and businesses who can use the service to gain more customers. And, of course, its good for Android users because it means easier mobile payments at small businesses.
The new Pay With Square comes shortly after PayPal started competing with Square's mobile card reader. It looks like the startup is one step ahead of the Ebay-owned giant, though there's no reason PayPal can't release a similar app soon. PayPal will still need to build the relationships with businesses that Square has, and that could be challenging given PayPal's poor reputation.
Square doesn't seem to think we need NFC in phones for mobile payments, we just need a secure app that both stores and customers use. It's certainly a great idea for those who don't have NFC yet. However, if NFC takes off, Pay With Square could be in some real trouble.
Via: Wired Gadget Lab

As an Amazon Associate I earn from qualifying purchases.