SQUEEGiT is a Squeegee for Touch Screens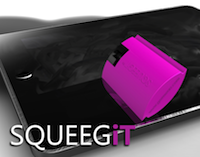 SQUEEGiT is another screen cleaning solution for touch screens and laptops with touch screens from Clean Gear. The company says it is the first in a new category of "portable squeegee cleaning systems" where you don't just wipe your screen clean with a microfiber cloth but squeegee it like you would your car windows at the local gas station.
The value of SQUEEGiT from the looks of the video below is the speed. You just spray a little of the cleaning solution the screen and then wipe with a single pass to clean the screen. At only $14.95 even if it doesn't work you are not out too much money.
The CLEANAiD solution is refillable for $10 and promises to be environmentally safe. It also looks like it is portable enough to throw in your pocket or a computer bag. We are a little nervous about spraying anything on our electronic devices since most manufacturers say to spray cleaning solutions on cloths first and then wipe.
The FAQ says that one spray will clean a smart phone screen or gaming system. Three will clean a tablet like the iPad. Five sprays will be able to clean your laptop. Look for our review of SQUEEGiT coming soon.