SR668 RuggedBook Tablet PC InkShow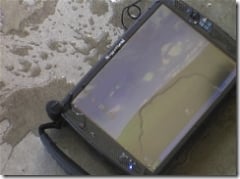 I have been looking forward to testing a rugged Tablet PC for quite some time. We've put the feelers out to several OEMs, but unfortunately none of them return our emails. That is, until 3 weeks ago when Samwell Group contacted us. Samwell Group offered to send us their SR668 RuggedBook for a review and run it through some good tests – water, ice, dropping, etc. Samwell is the first rugged Tablet PC OEM to respond to our requests to review their Tablet PC – so big thank you to Marion Chiu at Samwell.
The SR668 is a very nice rugged Tablet PC that features both touch and active digitizer input that turns on / off with the press of a button. Running at 1.1ghz and 1.25 gb of ram, I found the SR668 to be quite rugged and snappy at the same time. My only disappointment was in the screen quality outdoors; however, I found out later that they did not ship me the outdoor screen version, which would greatly improve the experience for field workers.
The drop tests we performed in this InkShow on the SR668 were actually outside the official MIL-STD-810F spec. The SR668 is built to withstand up to 26 consecutive 3 foot drops on to plywood over concrete. We did our drop test on a thin rug over concrete. The digitizer screen will likely crack if it is dropped directly on to concrete from 3 or more feet, so we don't recommend drop testing it the way we did. I also understand that they are adding tempered glass just for those cases where a drop is made directly on to concrete from 3 feet.
Special thanks go out to my son, Dax, and his friend Matt Bradley, for helping me test and film this InkShow. The boys really got a kick out of "roughing up" a Tablet PC. Because we filmed this InkShow outdoors, the audio goes up and down. Just turn up your volume and you should be ok.
If you are interested in learning more about the SR668, you can visit Samwell Group at www.SamwellG.com or contact
Samwell Group Inc. West Coast
46731 Fremont Blvd. Fremont, CA 94539
Tel: 510-623-8568
Fax:510-405-2092
Email: [email protected]
Attn: Mr. Jack Lee
Pricing is around $3500. Here are the official specs and a link to their product brochure:
With IP54 rugged feature (shock resistance, vibration resistance, water proof, spill resistance, dust and dirt resistance, hot and damp resistance, magnesium enclosure) developed specially for the harsh environmental conditions and physical stress.
Feature
* Compact size : 284 x 209 x 63 mm with 4 bumpers
* 10.4″ XGA ( 1024×768) TFT ; outdoor sunlight readable supports (optional)
* Resistive or Dual Mode touch panel
* ULV Intel Pentium M Processor (1.1 GHz)
* RAM: 768 ~ 1280MB DDRII 400
* HDD: 2.5″ 40/80GB shock mounted
* OS: Windows XP Tablet PC edition
* Build-in WiFi 802.11 a/b/g, Bluetooth Class II
* Optional: GPRS/CDMA/GPS
* Meets IP54 standard and MIL-STD-810F
* Wide temperature range operability: -20 ~ 60 C
Video: SR668 Rugged Tablet PC InkShow
All GottaBeMobile.com InkShows are sponsored by:

As an Amazon Associate I earn from qualifying purchases.