SRS iWOW Universal Improves the Sound of Smartphones and Tablets
Smartphones and tablets are great for listening to music, but the sound quality isn't always that great. The SRS iWOW wants to help by boosting the sound that comes out of any mobile device.
According to The Gadgeteer, the SRS iWOW Universal is a small device that plugs into the 3.5mm headphone jack of any device. The device boosts the quality of the sound that passes through it giving users "an amazing HD-quality listening experience for all music, movies, games or other audio tracks."
The SRS iWOW Universal delivers "natural and immersive HD-quality sound with substantial bass enhancement" by using "professionally tuned presets." There are a number of presets, so users can change the sound to their liking.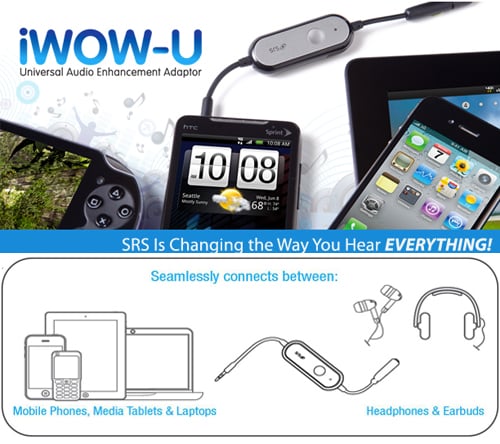 The small device will also find details lost in the sound files' compression and attempt to restore them. It should work to make older tracks sound like the artist intended. Newer songs, or albums that were "Mastered for iTunes" likely won't have as much detail buried in the source file.
The Lithium-ion battery inside the SRS iWOW Universal should last for about six hours and charges via a mini-USB port. That should last most users a full day.
The SRS iWOW Universal sells for $69.99, and the SRS iWOW-UF which features interchangeable faceplates sells for $79.99. That's a bit expensive for a device that improves the sound of a smartphone or tablet. The price might be worth it for some, but most users likely have no issue with the sound that comes out of their devices. For the latter, the price probably isn't worth it.

This article may contain affiliate links. Click here for more details.