SSD Technology Continues to Evolve
Remember when Warner posted this Solid State Drive article? Our friend James Kendrick over at jkOnTheRun.com has found this new SSD upgrade that has really sparked my interest. What you have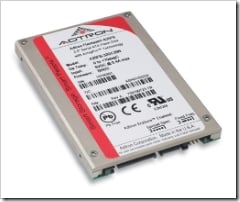 here is the 160G Solid State Drive (SSD) by Adtron. For readers who don't know what the big deal is, for the Tablet PC/UMPC industry, it's all about increased battery life. Yea, I know, performance and shock protection as well, but for mobile technologies, battery life is the current end game.
As James points out so well:
"We've been all over the evolution of the flash hard drive here on jkOnTheRun because of the impact it can have on mobile PCs in the areas of performance and battery life. The largest capacity flash HDD was 64 GB until Adtron announced a new 160 GB disk, a capacity that can move flash HDD into the realm of high performance, if the price is right."
Check out the full specs here. Pricing is not currently available, but you know what they say about having to ask about price. Enough said. It's still expensive. VERY expensive!
I would SO LOVE to test one of these. Hint, Hint. Dennis, Rob are you getting this? Oh well, it does not hurt to ask. Perhaps one of our loyal readers will pass this request along to the right industry contact. If I can get my hands on one to evaluate, I'll post a complete series of performance, and battery life comparisons for several different systems. And yes, I promise to return the drive… well maybe. Come on guys, get the word out! "I WANT MY MTV SSD!"

As an Amazon Associate I earn from qualifying purchases.