Staples Offering the Surface RT for $399
Staples retail locations in the United States are offering Microsoft's Surface RT tablet for $399.
That's according to WPCentral who visited a Staples location on Thursday to check the price of Microsoft's tablet after noting that it had been marked down to just $399 on the company's website. While the price has returned to $499 online, it's since been dropped in all of the company's retail locations.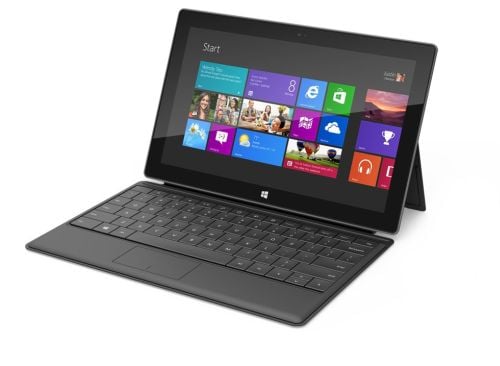 Staples' $399 deal marks one of the rare times potential users in the United States have been able to get their hands on the Surface RT for anything less than its introductory price. This model comes with 32GB of onboard storage.
Notably, it does not come with the a black Surface Touch Cover, so users who take advantage of the deal will either need to make use of the device's onscreen keyboard, pair it with the keyboard and mouse that they already own as the Surface RT comes equipped with a USB 2.0 port and Bluetooth, or simply purchase one of the Touch or Type Cover for an additional $119 and $129.
That cheaper initial price isn't the only deal that the company is offering either, we found that Staples' website will also refund 10% of the purchase of any Surface tablet or accessory in the form of a coupon to users who sign up for the company's Staples Rewards Program.
The Surface RT ships with Microsoft's Windows RT and is the Surface tablet that most closely competes with Apple's full-size iPad. As it users Windows RT and an NVIDIA Tegra processor inside it's able to offer users longer battery life and a slimmer profile than Microsoft's Surface Pro tablet.
Those characteristics do come at the cost of compatibility. The Surface RT can only install applications from Microsoft's Windows Store, so applications like Apple's iTunes can't be used on the device.
Read: Microsoft May Debut Second-Generation Surface at BUILD
All indications seem to point to this being a temporary price reduction, though it is worth nothing that Microsoft originally announced the Surface RT on June 28th 2012. That put's this device as a month shy from its debut, the time when most device makers detail or release updated versions of popular gadgets with updated specifications.

As an Amazon Associate I earn from qualifying purchases.