Star Wars Battlefront Beta Release Date is Today
Electronic Arts set a lot of hearts aflutter this past summer just before its Electronic Entertainment Expo briefing. Many expected that the company would have something new to share in its Battlefield franchise. What the publisher and video game development studio EA Dice delivered was Star Wars Battlefront. The public will get their first real chance to test that experience when the Star Wars Battlefront Beta arrives on consoles and Windows PCs today.
Star Wars Battlefront isn't a typical shooter. Strewn through out the game's different modes are weapons and vehicles inspired by the Star Wars movies. The gorgeous arenas in the game are ripped straight from planets fans have already seen in other places. Every so often even a hero or villain from the larger universe makes an appearance in Star Wars Battlefront.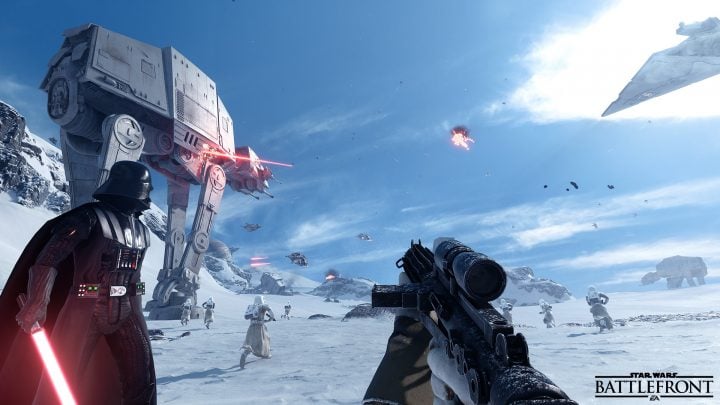 Read: 10 Exciting Star Wars Battlefront Details
The Star Wars Battlefront Beta starts today on Xbox One, PS4, and Windows PCs.
Until October 12th anyone with an Xbox One, PS4 or Windows PC robust enough to run the game can try the Star Wars Battlefront Beta. The beta itself, is an absolutely free play test of the game's multiplayer features in mechanics. By making the Star Wars Battlefront beta available to everyone, Electronic Arts is hoping to get a worst case scenario for how the game's system's run. The stress test will help the company identify issues they can solve before the final Star Wars Battlefront release day on November 17th.
There are no mandatory sign ups. Pre-ordering the game isn't required to enjoy the Star Wars Battlefront Beta experience this week.
Electronic Arts let Windows PC users begin pre-downloading the Star Wars Battlefront Beta earlier this week so that they're ready to go the moment the servers are available. Users playing on a Windows PC, can download it from Origin now. Owners of Microsoft's Xbox One and Sony's PS4 consoles will need to wait until the beta download appears in the Xbox Store and PlayStation Store at 1PM. EA has said that Xbox One and PS4 users can expect the download to be around 7GB in size. Depending on how the PlayStation Network and Xbox Live hold up, users could be looking at a download that takes a couple of hours at the least.
Updated: The Xbox One & PS4 downloads are now available.
The entire time the Star Wars Battlefront Beta is running, EA will unlock the Star Wars Battlefront Companion experience for the web. This web app lets users stay connected to the game when they're away from their console. It has a game of its own called Base Command. Base Command forces users to protect a base as the Galactic Empire's forces try to seize control of the area. Different cards in Base Command unlock different options in the game's turn-based combat system. The currency that players earn in Base Command can be transferred to Star Wars Battlefront to unlock extras there. Currency buys Star Cards that players keep in both games, forever.
The Companion app also acts as an easy character customizer and progress tracker. Electronic Arts plans to launch Android and iPhone versions of these apps on November 17th, but only the companion experience online is available with the Star Wars Battlefront Beta experience today.
Three separate maps and game modes are available for the Star Wars Battlefront beta. Walker Assault on Hoth, Drop Zone on Sullust and Survival Mission on Tatooine. The final version of the Star Wars Battlefront will have more game modes and locations available.
Read: Important Star Wars: battlefront Beta Release Date Details
Star Wars Battlefront is already available for pre-order at GameStop, Best Buy and more. Any progress made during the Star Wars Battlefront Beta that users earn won't carry over to the final version of the game. Electronic Arts and DICE plan on starting all players in the same place on release day.

This article may contain affiliate links. Click here for more details.