Star Wars Battlefront Beta Release Gets Extended
EA DICE and publisher Electronic Arts have good news for anyone taking part in this past weekend's Star Wars Battlefront Beta. Absolutely anyone who downloaded the beta to their Xbox One, Windows PC or PS4 can keep taking advantage of the online gameplay the title has to offer for another day.
The community manager for Star Wars Battlefront announced that the Star Wars Battlefront Beta is being extended this past weekend in a post on the game's community site. The Star Wars Battlefront Beta started last week as a way for any console or PC owner to help test the game's systems ahead of its November 17th release date. Star Wars Battlefront is a giant battle simulation with the same vehicles and planets taken from the Star Wars movie franchise. Players start out as a lowly soldier, but can upgrade their character with weapons and power-ups. Every so often power-ups give the player the opportunity to become one of the franchise's biggest characters. For example Darth Vader, Luke Skywalker and Bobba Fett are all confirmed as playable heroes and villains in the game.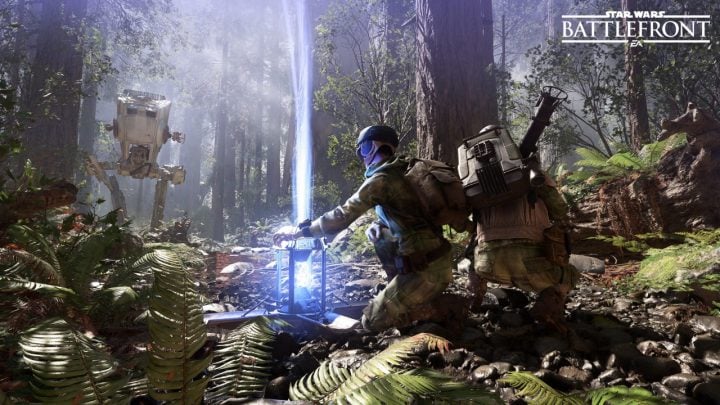 Read: Star Wars Battlefront Beta Video Shows How to Be a Hero
EA Dice says that it's extending the Star Wars Battlefront Beta until October 13th. That means that the entire play test will last a day longer than it was originally scheduled to. "These tests are to help us find some extreme scenarios, and that means some players may experience occasional issues such as being kicked from the game or losing connectivity," the post discussing the Beta extension notes.
The studio is making the symptoms of their test clear now because these are the same issues that occur when an online game experience is failing. For example, Halo: The Master Chief Collection frequently kicked people out of its multiplayer experience at launch.
Unfortunately, EA DICE isn't using the extension to add any new content to the Star Wars Battlefront Beta that wasn't available already. That means that during this extra day players are still only allowed to play Survival Mode or capture as many pods as they can.
The Star Wars Battlefront Beta has been pretty high on Xbox Live and PlayStation Store download charts since it kicked off last week. Part of the reason that is directly related to access. Rather than tie beta access to pre-orders, Electronic Arts and EA DICE opened it up for everyone. No doubt, a lot of the attraction is the game itself. The Star Wars movies on their own are hugely popular. With a new one set to debut later this year, it makes sense that interest in this game would be high.
Star Wars Battlefront is also a classic game in its own right. In fact, this year's release is actually a reboot of the Star Wars Battlefront franchise. For years, previous versions of the game attracted all kinds of fans, both casual and hardcore.
Star Wars Battlefront starts out like a first-person shooter, dropping users into a battle zone and forcing them to take on enemies with a mix of strategy and smart play. Users can switch the camera from first-person view to third-person view whenever they want. The enemies themselves are smart and objects pretty simple to understand. The play areas are absolutely gorgeous and are a big showcase for what current generation video game consoles and PC hardware can do when game developers leave legacy devices behind. To play the final version of Star Wars Battlefront console gamers will need an Xbox One or PS4. There are no plans to introduce a version of Star Wars Battlefront for the Xbox 360 or PS3.
Basic copies of Star Wars Battlefront are available for pre-order now from GameStop and other retailers for $59.99. There's also a Star Wars Battlefront Deluxe Edition that provides instant access to some of the game's weapons and abilities without having to first level up a character. That version of the game costs $69.99, $10 more than the standard version. All those who pre-order get early access to the Battle of Jakku content coming to the game this December.

This article may contain affiliate links. Click here for more details.