Star Wars Battlefront Beta Video Shows How to Be a Hero
New Star Wars Battlefront Beta videos are revealing more about the multi-camera shooter coming to the Xbox One, Windows PCs and Sony's PS4 next month. Some of these videos include what can only be described as some pretty awesome gameplay with the two biggest starts of the Star Wars franchise: Luke Skywalker and Lord Vader.
Skywalker and Vader are just two of the heroes that Star Wars Battlefront players can take over when the final version of the game launches on November 17th. EA DICE, the game's developer, kicked of the Star Wars Battlefront beta yesterday. The Beta is half learning experience and half showcase. DICE gets to examine how the game holds up in the real world before it launches, giving them time to fix any issues that arise. Players get a bit of the Star Wars Battlefront experience a month ahead of its release date. What's more, the game is absolutely free for anyone to try, regardless of whether they've signed up for a pre-order or not.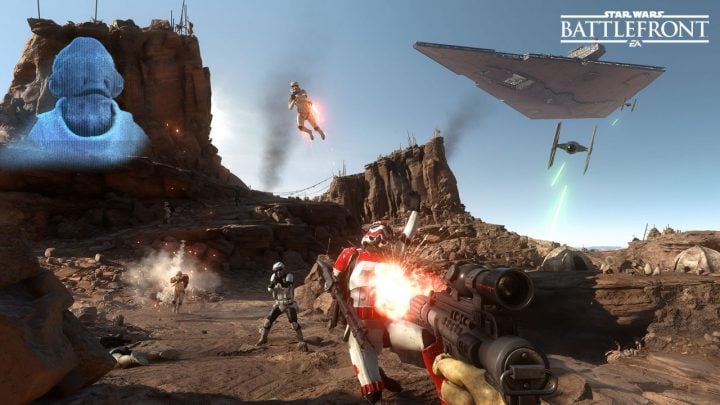 Read: Star Wars Battlefront beta Release Date is Today
One of the main attractions of the Star Wars universe is its heroes and villains. Battlefront treats heroes like power-ups; they're earnable extras for a job well done in combat. A seven minute long video reveals the secret to becoming one of the heroes available in Star Wars Battlefront.
The quest to become a hero in Star Wars Battlefront starts with a Hero Power-Up. These Power-Ups are scattered throughout the levels in specific locations, ready for someone to seize them and harness their power. Players need to snatch up these Hero Power-Ups when they see them. Using the Power-Ups once acquired is key because they are consumable. Once a player has used a Hero Power-Up it's gone. YouTube video maker Whiteboy7thst notes that Hero Power-Ups surface once every few games sessions or so in his recent video.
Gamers who've managed to snatch up the Hero token have two cool abilities at their disposal. Their jumping remains the same, but they can use the Hero's abilities to deflect any weapons fire from other players with their light saber. Vader can also throw a lightsaber at another player for an instant kill. Vader also has some force choking abilities, just like those that he demonstrates in the movie Star Wars: Revenge of the Sith.
Luke Skywalker's abilities as a Hero in Star Wars Battlefront are just as impressive. He also jumps higher than regular players can bounce weapons fire off his lightsaber for pretty easy kills. Skywalker has a Force Push ability that knocks other players backwards.
All told, the Hero power-ups appear to be pretty robust and powerful. And that's why DICE seems to have put a timer on how long a single player can hold the power-up before becoming a normal soldier again. Sure, becoming a Hero takes time, but letting a player go unchecked as a Hero could lead to an unfair advantage for the opposing team.
Luke Skywalker and Darth Vader are just two of the characters confirmed for Star Wars Battlefront. Bounty Hunter Boba Fett is coming too. The Star Wars Battlefront website indicates there are more heroes and villains on the way, but isn't ready to detail the full list yet. The site does confirm that users will see more Heroes & Villains added to the Star Wars Battlefront experience added on a regular basis.
Electronic Arts, the game's publisher, plans to end the Star Wars Battlefront beta on October 12th for all platforms. When it does gamers won't get to play again until the Star Wars Battlefront release date on November 17th. Star Wars Battlefront won't be playable on the Xbox 360 and PS3. Unfortunately, gamers with those consoles will need to upgrade their hardware on or before release day.