Star Wars Battlefront Early Release Date Arrives
The Star Wars Battlefront early release date that users have waited months for has finally arrived. Beginning today, subscribers to Electronic Arts' EA Access subscription service can download the game and play it for a limited time.
Star Wars Battlefront became downloadable for Xbox One owners earlier today, five days before it actually goes on sale for Microsoft's Xbox One and Sony's PS4 video game console. Star Wars Battlefront is a reboot of the enormously popular Star Wars-themed battle simulator that debuted over a decade ago. Star Wars Battlefront players start as soldiers fighting on the side of either the Galactic Empire or the Rebel Alliance. Users get basic weapons at first, but scattered through the game's landscapes are weapons power-ups and more. Players can become their favorite Star Wars heroes and villains through power-ups too. It's one of this year's most anticipated games. It's only coming to the Xbox One, Windows PCs and PS4.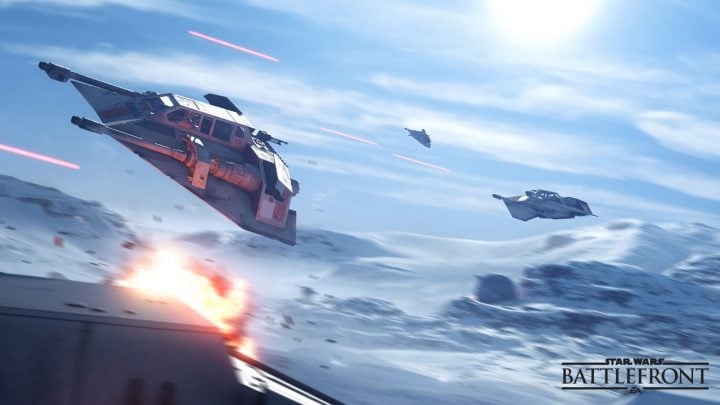 Read: Star Wars Battlefront Details Arrive
Unfortunately for PS4 users, this Star Wars Battlefront early release is only for Xbox One owners. EA Access is only available on the Xbox One, probably because it directly competes with Sony's own PlayStation Now subscription service. EA Access buyers get 10% discounts on new digital games, plus digital downloads from EA's Vault library.
EA Access costs $29.99 a year, or $4.99 a month. Anyone taking advantage of the Star Wars Battlefront early release gets to play the game for a total of 10 hours. During that 10 hours, gamers can play the game's multiplayer modes and playlists without restriction. Xbox One owners who decide to purchase the game will get the 10% discount. What's more, the progress from the early release transfers to the final version of the game. Star Wars Battlefront launches on November 17th.
Read: Is EA Access Worth Buying?
In preparation for the early release, DICE, the game's developer, have released a companion app for the game already. Star Wars Battlefront Companion for Android and iOS lets users track their progress in the game's multiplayer. Stat breakdowns make it easy to gauge progress on mastering the game's weapons and putting together a team that compliments each player's strengths and weaknesses. A game contained within Star Wars Battlefront Companion lets users earn credits that they can then spend on Star Cards to enhance their experience in the main game. The Star Wars Battlefront Companion isn't available in the Windows Store.
DICE and EA are hoping that gorgeous levels and familiar ground combat system will catch the interest of Star Wars fans excited about reliving their experiences in the older games. The Star Wars Battlefront release date is a month before Star Wars: The Force Awakens arrives in movie theaters.
Read: 10 Exciting Star Wars: Battlefront Details
There's both a single player and multiplayer experience contained within Star Wars Battlefront. The online multiplayer has different modes designed around familiar activities like territory control and all out small weapons warfare. All of the game's weapons are taken from the movie series. The game's vehicles are straight from  the movie series too. Players aren't limited to ground combat, Tie Fighters, and X-Wings are at the center of the air combat. Unfortunately, all of those air battles take place within a planet's atmosphere instead of in space.
Star Wars Battlefront Deluxe Edition costs $69.99. A basic copy of Star Wars Battlefront for the Xbox One and PS4 costs $59.99. Available separately for $49.99, a Season Pass unlocks all the game's forthcoming add-on content. Retailer GameStop has all of these versions, plus a $399 PS4 console bundle available for pre-order now.

This article may contain affiliate links. Click here for more details.