Star Wars Card Trader Release Details
Topps, makers of physical card games in this galaxy, have just what collector's need to relive the magic of a galaxy far, far away. The company recently collaborated with Disney for the unveiling of new Star Wars Card Trader updates and fresh digital sets. The app only recently wrapped up a weekend-long event designed to boost the profile for this winter's Stars Wars film, Rogue One.
The update that added Rogue One to Star Wars Card Trader debut just last week. Rogue One will be the first of Disney's franchise related spin-off movies to come to theaters later in 2016. Disney seems to have more of them planned and you can bet that Topps will rollout new cards with those movies too. The Star Wars Card Trader is exactly what it sounds like it is. Player's use the app to collect and trade digital cards with their favorite characters from the franchise.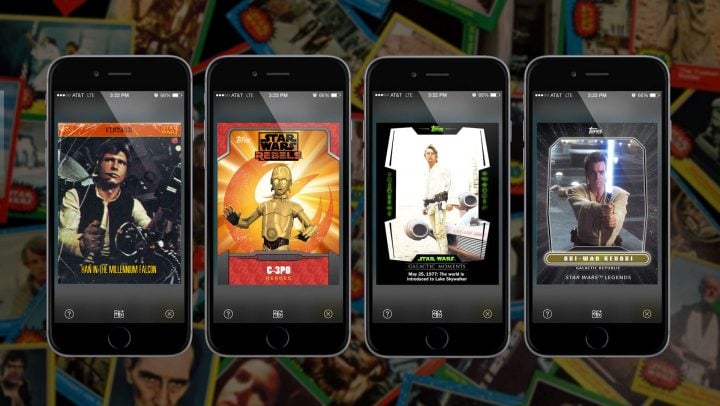 Read: Star Wars Battlefront: 5 Things to Expect in 2016
Star Wars Card Trader comes in two different versions, one for devices running Google's Android operating system and another for iPhone and iPad users in the iTunes Store. The app is completely free to download on iOS or Android.
Topps wants Star Wars fans to collect the digital cards that it offers and remember how those characters and scenes made them feel. With the Rogue One content update there are "thousands" of different cards for owners of the app to collect. They're not just based on Rogue One either, they come from A New Hope, Empire Strikes Back, Return of the Jedi, Phantom Menace, Attack of the Clones, Revenge of the Sith, Clone Wars and Rebels.
Characters from the franchise can have multiple cards. That's because there are different styles for different characters. Luke Skywalker could come in a character card with his live action portrayal, or look very different thanks to an artist's rendering. Some of the digital trading cards are easier to find than others. Characters aren't the only thing the app focuses on. It has vehicle types and planets too.
The Star Wars Card Trader users can trade frequently rewarded and rarely found cards with each other through the community experience that's built into the app. Some of these users actually stood in a virtual line so that they could be among the first users anywhere to get the special Rogue One cards a few weeks ago.
In app purchases allow fans to purchase new packs of cards when they're ready. Everyone's first set of Star Wars Card Trader are free, and the app gives out new packs to open every day. Of course, those packs are so that iPhone and Android owners will keep going back to collect more and more characters, moments, vehicles and scenes. Purchases can go as high as $4.99.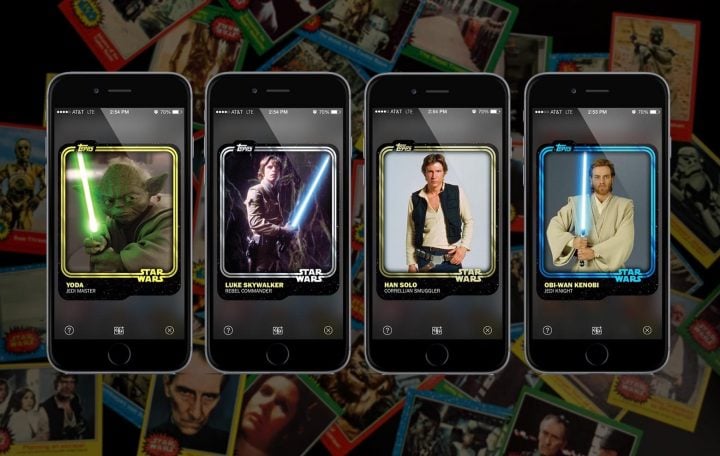 All told, Star Wars Card Trader is just the app some die-hard fans of the franchise are looking for. More and more Rogue One cards and moments should make their way into the app as the movie gets closer to release; its set to arrive in theaters December 16th. As a spin-off, it's not expected to feature any of the franchise's main protagonists. That being said, the movie does revolve around a familiar weapon: The Death Star. A group of rebels is planning to steal the plans that the ruler of the Galactic Emperor and Darth Vader used to create the last two planet-sized weapons of mass destruction.
Through certainly growing in popularity with science fiction fans because of Star Wars Card Trader, Topps is already a well-known brand. The company has made physical cards for sports lovers to collect for decades. It was founded in 1938. Star Wars isn't the only thing getting the digital card treatment from the company. There are football, baseball, soccer and wrestling versions available too.
Read: Star Wars Battlefront Rogue One: Scarif DLC: 5 Things to Know
Rogue One has one other tie-in coming too. Star Wars Battlefront players can expect related downloadable content to arrive for that game sometime soon.

As an Amazon Associate I earn from qualifying purchases.