Start Menu + 5 Must Have Features Rumored for Windows 9
Microsoft has already confirmed that the Start Menu is making a celebrated return in Windows Threshold or what many industry watchers are already referring to as Windows 9. Now a new report confirms that users can expect a boatload of must-have features to be rolled up in the update including, a refreshed Desktop taskbar and digital personal assistant Cortana.
An unconfirmed report from Neowin is shedding a bit more light on the future of Windows. What the report refers to as Windows 9 is full of features that that'll leave PC buyers salivating. The biggest of those features, besides the return of the Start Screen, is Cortana. Reportedly, Microsoft's digital personal assistant will be added to the Desktop taskbar for easy access. Microsoft introduced Cortana to users earlier this year in Windows Phone 8.1. The Windows Phone 8.1 version of Cortana has a personality like Apple's Siri personal assistant, but is able to look through emails and contacts to automatically surface information that users might find relevant – just like Google Now.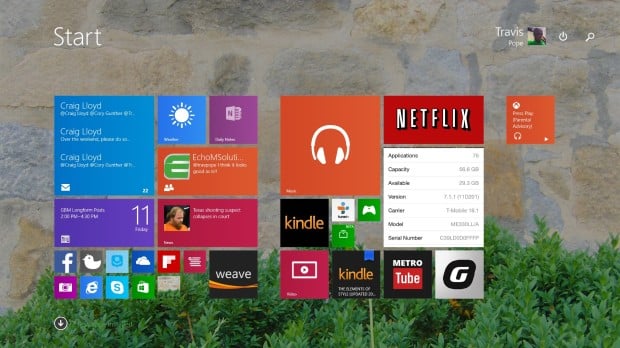 Additionally, the report confirms that the Start Screen is going away for Desktop users. Reportedly, tablets and convertibles will be able to switch between the Start Screen and the Desktop as they do today. Tablets running Windows 9 will only see the Start Screen with no access to the Desktop interface.
Joining Cortana will be an expanded Desktop taskbar. In Windows 8, the taskbar is mostly a shortcut menu, but with Windows 9 the taskbar could gain some live tile functionality. In fact, today's report actually calls the new interactive icons "mini Live Tiles." These mini Live Tiles will be interactive, possibly like how Windows Media Player adds a mini player to the taskbar when it's minimized.
Finally, the report notes that users can expect Windows 9 to look distinctive. That is to say, users won't be able to confuse the Desktop interface with Windows 9. It notes that everything looks a lot flatter in Windows 9 than it does in Windows 8 and Windows 7. That's not hard considering Microsoft barely made any improvements to the Desktop interface in Windows 8, choosing to focus on the Start Screen and Windows Store apps instead.
In addition to confirming that the Start Menu would make its return, Microsoft also talked a bit about freeing Windows Store apps from the Start Screen and letting them run in the Desktop. This report mentions them in passing, but doesn't provide a lot of new details about how they work. For example, we don't yet know if the title bar that sits at the top of each Desktop app will make their way to each Start Screen app. Microsoft added a disappearing title bar to Windows Store apps so that mouse and keyboard users could simply press the X and close any app they weren't using without dragging it to the bottom of their screen. It might sound small, but adding title bars to Windows Store apps that are always visible could instantly make them more approachable than they are in Windows 8. Even today Windows 8 users struggle to figure out how to close Windows Store apps. Luckily, Windows Store apps don't run when they're not on the screen, so battery life isn't affected by having a ton of apps open.
Read: Windows 8.1 Update 2 and Windows 9: Why All Windows Users Should Be Excited
Users surprised that Microsoft is already working on Windows 9, or what's code-named Windows Threshold, really shouldn't be. Microsoft launched Windows 8 in October of 2012. That means we're two-years into Windows 8's life-cycle – about the time when the company starts working on the current version's successor. Reportedly, Microsoft will share more about Windows 9 including a release schedule sometime later this year. Allegedly, it won't release a final version of Windows 9 until next year.

As an Amazon Associate I earn from qualifying purchases.