Starting Them Young With Pen and Ink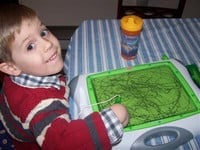 I've always said that children and Tablet PCs are a natural combination. Well the Fisher Price Doodle Pro isn't a Tablet PC, but it sure looks like fun for the younger set. When we headed over to my brother and sister-in-law's house this afternoon, we found nephew Joey doodling away on his Doodle Pro. So, here's nephew Joey, doodling away on his Doodle Pro to great delight. Maybe in a few years we'll get you going on a Tablet PC.

As an Amazon Associate I earn from qualifying purchases.