Valve and its Steam Store dominate the PC gaming experience. Steam is how PC gamers get games – when the publisher of that game isn't petty enough to restrict their titles to their own client. When developers want to add ways to share in-game creations and ideas for players, it's Steam Workshop that they turn to. The service often has the best prices on titles. Really, only success in hardware has eluded the company's grasp. The Steam Controller is part of Valve's strategy to change its fortune in that space.
Available for $49.99 at retailers like GameStop and Steam's website, the Steam Controller is Valve's attempt at doing something different than what other companies are doing. It has the hallmarks of other controllers, with a joystick and colored buttons available on its front face. It also departs from the controllers that inspired it. Two touchpads allow users granular control of their mouse pointer and character. Each has haptic feedback as well. The controller's shape is radically different from other controllers you've encountered.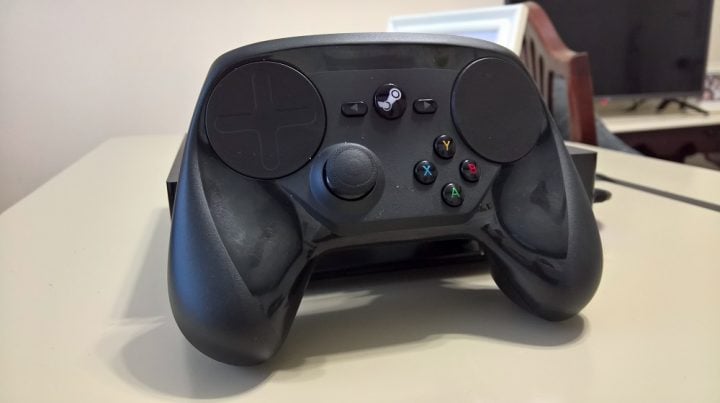 Read: 7 Valve Steam Tips & Tricks for New Users
The Steam Controller is one part of a strategy that Steam hopes will appeal to console gamers and enhance the PC gaming experience of its millions-strong community. There are some great things about it, and some very, very serious flaws.
Steam Controller Review: Hardware & Software
Developed out in the open, Valve got a lot of feedback from gamers before it released the Steam Controller. Early prototypes felt weird, to say the least.
The shipping version of the Steam Controller still feels weird. It takes some serious time to adapt to its curves and grips. The body of the controller is matte black plastic, with a stripe of smooth plastic running around the center buttons and mechanisms.
Rather than stick with joysticks and a regular directional pad for familiarity's sake, Valve bet that gamers wanted precision. That's why the pads that your thumbs come to rest on are touchpads. The one on the left has directional buttons built-in. The other trackpad is smooth. Pressing down on either of them is like clicking the left or right button on a mouse. A tactile feedback engine inside the controller helps your mind comprehend adjusting camera angles and scrolling through lists.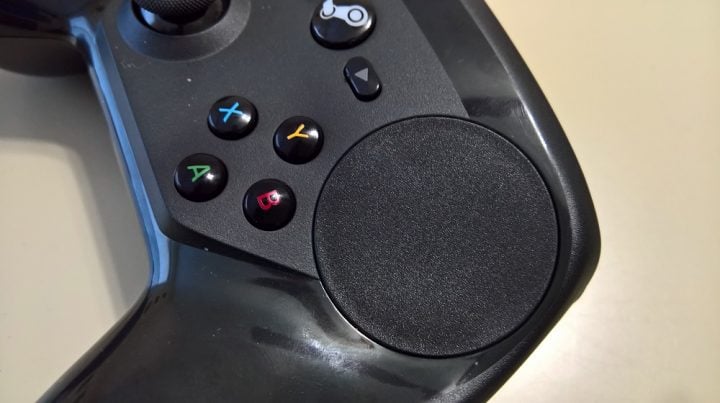 The joystick in the bottom-center feels nice. It feels like it's there in case gamers don't adjust to the left touchpad. XYBA buttons sit in a diamond formation opposite of that joystick. Two pairs of bumpers, two triggers and two integrated paddles complete the experience. A MicroUSB cable lets users connect the Steam Controller directly to their PC. Two AA batteries hidden behind a door on the rear of the controller provide power when a USB cable isn't convenient. Valve ships the Steam Controller with a tiny USB dongle for connecting wirelessly.
There's no headset jack built-in. That's something controllers from both Microsoft and Sony offer today.
I know that Valve had its heart set on creating the ultimate PC controller. If anything, it's the controller's software that makes it a contender for best PC gaming controller, not the two touchpads.
Steam has relentlessly launched new Steam Controller updates since the piece of hardware became available. Controller layouts now sync with Steam accounts to give players access to their favorite profiles anywhere. Through a software update, Valve was able to give gamers even more granular control of their in-game characters. It's also added support for games that aren't available in Steam.
Steam Controller Review: Experience
Any video game controller can feel great in your hands, but how it feels after you've played hours of Cities Skylines, Star Trek Online, XCOM and Grand Theft Auto 5, is what's most important.
For hour-long gaming sessions, the Steam Controller did alright. The grips on the controller's edges are ridiculously comfortable, fitting in your palm of your hands like a glove. At no time do gamers have to take their fingers off the triggers, bumpers and rear paddles. Getting your thumb to the controller's thumbstick is a bit awkward at first since you will have to remove it from the left touchpad to do so. In that way, the Steam Controller is just like the Xbox One controller when trying to use the D-Pad. Battery life was impeccable,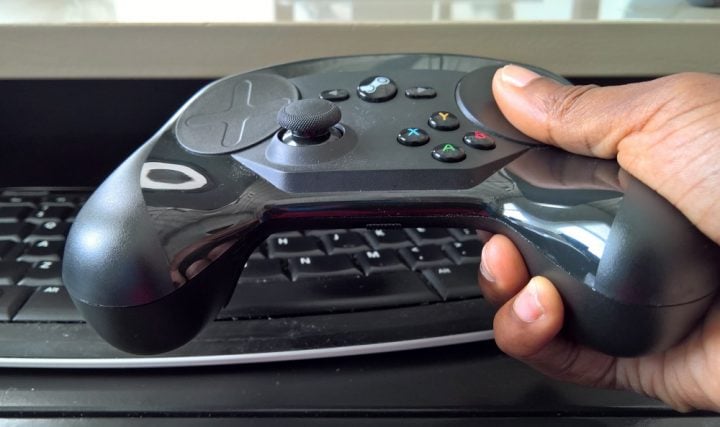 The mechanisms underneath each button and trigger feel solid. That being said, their actual surface doesn't. At a time when controller makers are adding metal and other materials to make their controllers feel more substantial, it seems odd that Valve would opt for so much plastic on their device. There's no way around it; the Steam Controller feels like you're holding a mound of cheap plastic in your hand. Prepare for sweaty palms. That cheap feeling isn't helped by the ridiculously loud mechanisms behind the triggers, bumpers and touchpads.
After the first few hours, I felt a little less comfortable using the Steam Controller. There was a substantial amount of tension in my thumbs, tension I'd never experienced with other controllers. The best I can tell, the bulbous grips and touchpad positioning just don't do too well with small hands. I noticed myself holding the front of the controller at an angle to get a more comfortable position on the touchpads. That helped, but also transferred the tension to my wrist.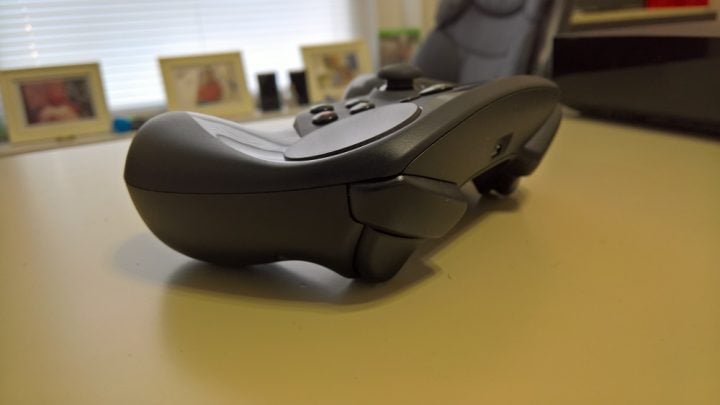 It's in simulation and strategy games that the Steam Controller shines the most. The touchpads lend themselves much better to plopping a building in a precise location than a joystick would. With shooters, I found the touchpads to be a mixed blessing. I couldn't get the accuracy I needed out of them, even after fine-tuning and downloading community-made controller profiles.
To get the most out of the Steam Controller, you'll want to pair it with Steam's Big Picture Mode or SteamOS. Both have digital keyboards that take advantage of the Steam Controller's unusual design. I wouldn't recommend SteamOS for reasons Gotta Be Mobile discussed in its Alienware Steam Machine review earlier this year. The Linux-based operating system leaves a lot of games out of your reach. Definitely go with Big Picture Mode if you're considering buying the Steam Controller.
Steam Controller Review – Should You Buy?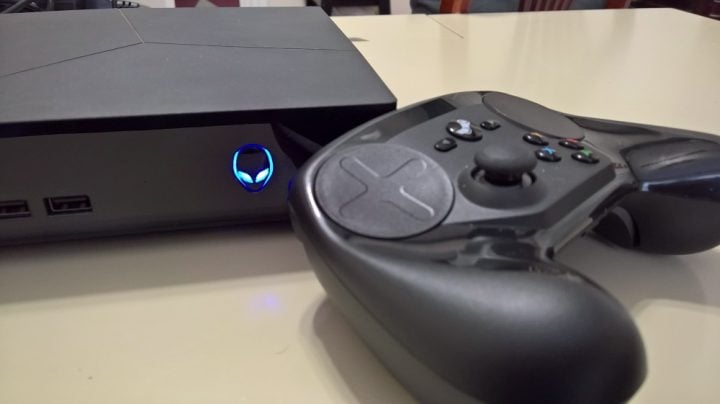 I don't love the Valve Steam Controller, but I applaud the chances Valve took with it. Certainly those risks pay-off in some areas.
The touchpads make this controller a great way to play games that would normally require a mouse. For those games, this controller is worth looking into. Just be sure to keep your receipt in case you find yourself with the same tension problem I ran into. I think lovers of first-person shooters should definitely look elsewhere.
Those who want ridiculously good build quality, akin to the Xbox Elite Wireless Controller, should look elsewhere, too. Valve has the software customization right, but the controller's hardware needs work. It feels cheap, and being able to hear mechanisms across a room isn't a feature I've heard anyone request.