SteelSeries Stratus iOS 7 Controller Is Great, But It'll Cost
Yesterday at CES 2014, SteelSeries debuted its own iOS 7 controller for iOS 7, a controller that will be going up against competitors from the likes of Logitech and Moga. The SteelSeries Stratus, as it's called, is a Bluetooth-powered controller and it's going to bring an Xbox-like control to iPhone and iPad users.
When Apple first announced iOS 7 back in June, it revealed that the new software would be bringing controller support to iPhone and iPad users. And while compatible games remain scarce, games like Asphalt 8: Airborne, Bastion, Dead Trigger 2, and Oceanhorn are some of the only games that can take advantage, the sky is the limit.
CES 2014 figured to be a jumping point for a few of the companies looking to enter this space and indeed, we saw a new competitor join the fray.
Yesterday, the SteelSeries Stratus was announced, a $99 game controller that looks a lot like a mini-Xbox control and will serve as competition for the likes of the Logitech's PowerShell and Moga's Ace Power. Both of those will command a $99 price tag as well. But what sets the SteelSeries apart from these two is its Bluetooth connectivity, meaning, it can be used with an iPad or iPod touch in addition to an iPhone.
After spending some time with the SteelSeries Stratus, it's clear that the company has cooked up something that will appeal to those that love to play games on their iPhone, iPad, or iPod touch. It doesn't have a battery pack inside which means that the controller is lightweight and easy to hold, two things that are important for mobile gaming. Adult humans with large hands may have some trouble adjusting to its size, it's pretty small, but average humans shouldn't have any problems.
The Stratus' design is clearly inspired by Microsoft's Xbox controller, right down to the placement and names of the buttons. It also comes with a set of joysticks and a D-Pad. The joysticks are smaller than a typical console controller. Same goes for the D-Pad. One gripe that we had with the D-Pad was how shallow it was. This could prove problematic for those that rely on the D-Pad, particularly those that play fighting games. The joysticks had a good range of motion.
On top, we have four buttons including two triggers and two addition buttons that lie next to each other in the middle of the controller. The triggers are aligned side-by-side.
The controller we used was a prototype so it's possible that we could see some changes and tweaks to the design prior to its release. If nothing changes, SteelSeries has still created a fantastic accessory. With one major draw back.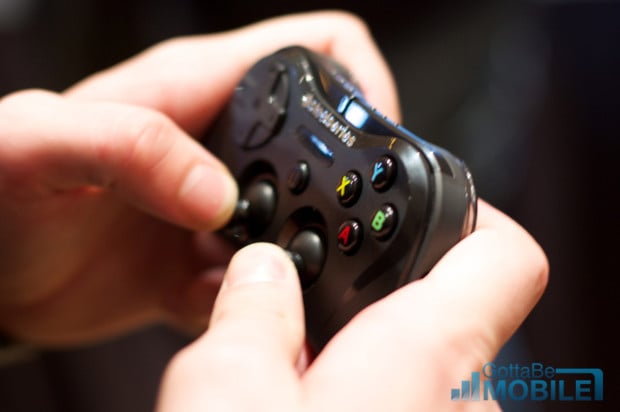 Overall, the SteelSeries Stratus is a fine iOS 7 controller. It will work well for games like Grand Theft Auto and Call of Duty. The only glaring problem that we see is the price point.
At $99, it's a tough sell. While it might look like a console controller, it's smaller and it feels much cheaper. When you consider the fact that a controller for a PS4 or Xbox One costs around $70, it's a tough pill to swallow. And there aren't any alternatives. This is where the iOS 7 controller market is at the moment. It's bound to change but probably not as fast as some consumers might like.
Those who are willing to cough up the cash though will find a well-rounded iOS 7 controller that ranks up there with the best iOS 7 controllers available to iPhone and iPad users.
The SteelSeries Stratus is currently available to pre-order through the company's website.

As an Amazon Associate I earn from qualifying purchases.