SteelSeries Stratus Is First iOS 7 Controller with Bluetooth
SteelSeries has announced a new iOS 7 gaming controller that follows in the footsteps of Logitech's and Moga's own offerings, but it's the first one to include Bluetooth, which means it can be used with an iPad or iPod touch as well — something that the other controllers don't offer.
It's called the SteelSeries Stratus, and it's a completely wireless accessory that doesn't rely on the iOS device's Lightning port, making it the first of its kind in a long line of accessories that we'll continue to see.
Like the other iOS 7 gaming controllers that we've seen, the Stratus features console-style controls, with a D-pad on the left side and the typical XYAB button layout on the right. There's also two joysticks for those who want better precision when moving around in whatever game you're in.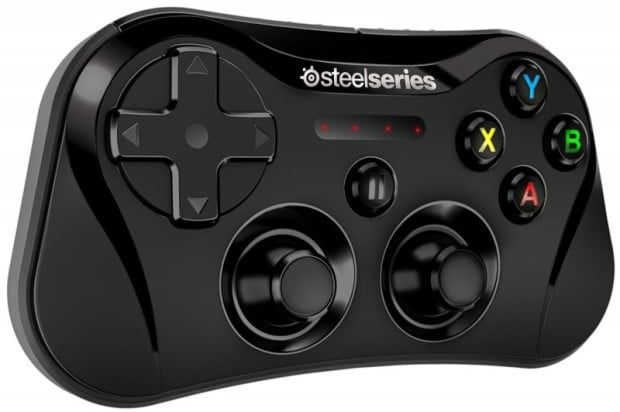 The controller looks a bit smaller than the other iOS 7 controllers that we've already seen, but that's probably because it lacks the built-in battery pack that's included in the Logitech PowerShell and Moga Ace Power controllers. The Stratus should also be fairly lighter as well since it won't have the battery pack.
The Stratus is available now for pre-order for $99, which is the same price as Logitech's PowerShell and Moga's Ace Power. With that said, the SteelSeries Stratus seems like the better deal, since it can work with any iOS device running iOS 7, instead of being tied down to just the iPhone. Then again, since the Stratus doesn't offer any kind of slot to snap your iOS device to, gamers will have to come up with their own solution for mounting their iOS device for proper viewing.
Apple announced the MFi (Made For iPhone) initiative at WWDC last year when the company unveiled iOS 7 for the first time in June. Currently, there are a handful of games that offer iOS 7 controller support, including Asphalt 8: Airborne, Bastion, Dead Trigger 2 and Oceanhorn.
Obviously, more games will support iOS 7 controllers as time goes on, and we're guessing mobile game developers will help improve the software side of things to make compatibility better for mobile gamers.