Steve Ballmer's Final CES Keynote: Nothing New But Forging Ahead
This was an historic year at CES 2012 if for no other reason that it was the announced last keynote by Microsoft. Announced by both Microsoft and CES, that move has caused much consternation and gnashing of teeth about Microsoft (they want to move on, they don't have that much new coming, etc…) and CES (the show is losing its luster and relevance.) History yet to be written will tell us what is to come, but the one thing you can't deny is that the Microsoft/CES partnership has been good for both organizations over the years.
Tonight Steve Ballmer gave what was billed by some as Microsoft's last keynote but there was certainly some interesting chatter from CES honcho Gary Shapiro in the introduction as he called it a pause in the relationship. Who knows what that really means.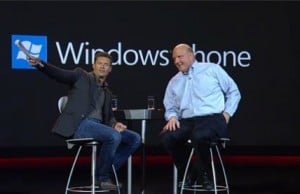 As promised, Microsoft didn't really come to the big party in the desert with much new to talk about. We've heard much of it before about Windows Phone, Windows 8, and XBox. So, in some ways as this was some sort of final "this is where we are" greeting card delivered by Ballmer and company, gently prodded by host Ryan Seacrest, more than it was about pushing any new envelope. Ballmer is pushing the theme of Windows, Windows, Windows, and its snappy new interface Metro, Metro, Metro. And you have to admire his passion and his cheer-leading as he guides the company into the land of Windows 8. (But don't forget to buy those great Windows 7 machines available right now which will be ready for Windows 8 when it pops out.) Yeah, timing can be awkward when you're playing catch up.
No premature Tablets. No Microsoft in the home. In fact I'd call this keynote no nonsense and also no real excitement. New stuff was new stuff we already know about beyond an announcement that Kinect will be released for Windows on February 1. Maybe no nonsense is enough at this point as Microsoft is poised to grab a good deal of attention when it makes a lot of noise later this year as the next stage of Windows 8 becomes available for download in February on its way to launch later this year.
If you're interested in some history, cleverly spun together here's a video compiling some highlights of Microsoft's 15 years of CES keynotes in 120 seconds.


This article may contain affiliate links. Click here for more details.