Steve Jobs Closely Worked On the Next 4-Inch iPhone Before Death
Speculations about Apple's next flagship smartphone are running high. Following Reuters and the Wall Street Journal reporting that the next-generation iOS smartphone would stray from its 3.5-inch display form factor to a larger 4-inch screen size, Bloomberg is joining the party and reporting that the next iPhone was closely worked on by the late Apple co-founder Steve Jobs before his death.
"Apple co-founder Steve Jobs had worked closely on the redesigned phone before his death in October, one person said," reported Bloomberg.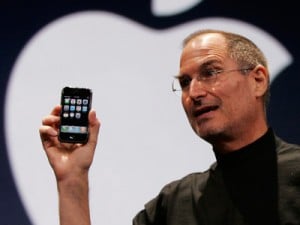 The publication highlights that the next smartphone would indeed be moving to a larger display following pressure from Android smartphone manufacturers, but it did not give any indication what that display size would be. Previous reports noted that a display size between 3.5- to 4-inch is ideal for controlling the touchscreen display with one's thumb while still palming the phone in one hand. Anything larger would eliminate the convenience and functionality of ease of one-handed operations and would require a user to hold the phone in one hand and manipulate it with the other hand.
When the iPhone was originally released, its 3.5-inch display was considered large by industry standard. HTC and other Windows Phone manufacturers had began migrating to display sizes between 2.8-inch to 3.5-inch, with the latter being at the high end of the spectrum. However, when Android handsets began debuting, 4.3-inch quickly became the trend and in this year we're seeing the trending screen size getting even larger. Devices like the HTC One X series have a 4.7-inch display and the Galaxy S III clocks in with a 4.8-inch display. Still, larger devices like the LG Optimus Vu and the Galaxy Note have screens of 5 inches or larger.
4G LTE wireless connectivity could be a possibility on the next-gen smartphone as well and this would be made possible once Qualcomm releases a multi-mode LTE wireless chip that would reduce power consumption.
It's unclear if the overall physical footprint would increase to accommodate the larger 4-inch as prior renderings suggest that it would be possible for Apple to utilize the same footprint of the iPhone 4S to house a 4-inch display. It's also unclear if the next iPhone would launch in September or October this year.

As an Amazon Associate I earn from qualifying purchases.