Stocking stuffers for your Motion Computing J3400
Have you or your J3400 Tablet PC been a good boy or girl this year? If so, then maybe you deserve a snazzy new accessory from Motion Computing.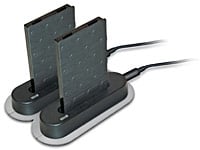 Top of their list is something useful for any highly mobile professional: The Battery Charger for the Motion J3400 can recharge a battery in about two hours and features an interlocking design for side-stacking (i.e., putting multiple chargers next to each other). And don't forget a spare battery to charge; a charger without a spare battery is like a lump of coal in your stocking.

Up next is the Lind Auto/Air AC and DC adapter for power on-the-go. Compatible with wall, auto, and airplane outlets, it's a great upgrade to the standard wall-only AC adapter. It's also compatible with the C5 and F5 Motion tablets, and includes an integrated USB port for charging your handheld device.
Finally, for enterprises that have been especially good this year, there's the ReadyDock RDJ3400. This cabinet-style charging dock can accommodate 5, 10, or 20 J3400 Tablet PCs. Obviously not something you'll open under the tree at home, but if your business fields a number of tablets, you'll want to think about this for your wish list.