Stop Memory Leaks By Writing Things Down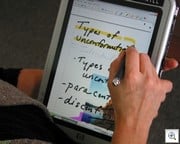 I should have read this yesterday. Ink Blogger extraordinare, Sumocat, links to a LifeHacker article that links to an article on The Positivity Blog that discusses the importance of writing things down to help you remember everything that is swirling around in your life. Normally I'm a list maker, using Tasks in Outlook for assigning and keeping track of my daily tasks. I use the excellent Tablet PC add-in for Outlook, TEO 3.0, to scribble a new task as things pop up. I also use OneNote's SideNote feature to jot things down as they fly by during the day. But hey, that's me.
The article goes into the why's and wherefore's about how we remember things and why writing things down can save us energy, time, and in my case frustration. Interesting read. Only thing missing? I think the writer needs to discover Tablet PCs.

This article may contain affiliate links. Click here for more details.