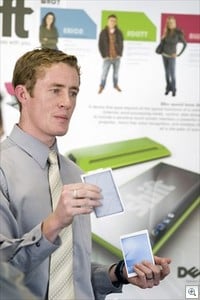 Brigham Young students recently designed some UMPC concepts for Dell as part of an Industrial Design final exam.
Designers interviewed bicycle police officers to gather information for a concept aimed at the military, outdoor enthusiasts and others who want to use computers in "hostile environments." Another team aimed at college students, for whom they conceived a two-screened machine that can open like a book, or rotate into a tablet, and features an on-screen keyboard. Other markets targeted were young adults and creative professionals such as musicians.

Another team of students displayed renderings and physical models of a potential new line of the portable, multipurpose chairs sold by Orem-based Mity-Lite, Inc. Designers experimented with mesh and fabric to lower costs and add aesthetic appeal to the chairs used, among other places, in facilities of The Church of Jesus Christ of Latter-day Saints.
Some interesting looking designs here.

This article may contain affiliate links. Click here for more details.