Stunning 2015 Amazon Black Friday Deals Revealed
With Thanksgiving Day just weeks away, retailers nationwide are teasing big savings on the hottest selling technology. Online retailer Amazon, is offering some big savings of its own. To kick off the holiday shopping season in the United States, Amazon Black Friday deals include deep discounts on Kindle, Amazon Fire TV Stick and even a new Kindle Fire Tablet priced at just $34.99.
The company sent word of new Amazon Black Friday deals this morning to Gotta Be Mobile. Together, they run the gamut of Amazon's devices, from the Fire TV to the Kindle eBook readers that millions are familiar with. Each year Black Friday shoppers flock to stores, ready to save as much as they can on expensive electronics and accessories that they've saved for.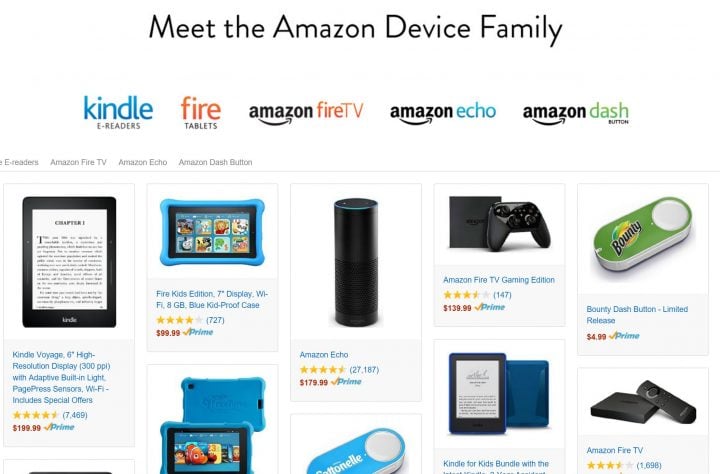 Amazon is hoping to use the holiday to expand its footprint in the electronics space. The company is building out a portfolio of devices, hoping to attract users to its stores as more things go digital. Amazon wants users to purchase a Kindle, but it's more interesting in buyers using their devices to purchase books, TV shows and other digital media, it seems.
Read: Black Friday 2015 Deals & Ads
The Amazon Black Friday deals and savings kicks off on Sunday, November 22nd. That's the Sunday before Thanksgiving and Black Friday. On that day the plain Kindle will sell for just $49.99. That's a big discount from the $79.99 a Kindle without Special Offers costs today. It's $10 off the price of a Kindle with Special Offers. This Kindle isn't to be confused with a Kindle tablet. It has a 6-inch e-ink screen; it's a books and periodicals reader, not much else.
Besides extending the company's reach in the eBook space, these Amazon Black Friday deals also attempt to shore up its living room experience. The Amazon Fire TV Stick is an HDMI dongle that allows users to turn their television into a smart TV. It has built-in apps for Amazon's Instant Video service, plus NBC, Sling TV, Disney, HGTV. Showtime and HBO Go. Amazon makes a Voice Remote that allows users to search for content without using the on-screen keyboard. Also included is access to Alexa, Amazon's personal assistant that does many of the same things that Apple's Siri and Microsoft's Cortana do.
The Amazon Fire TV Stick will be just $24.99, presumably with just the standard remote that Amazon offers in the base version. The Amazon Fire TV Stick normally costs $39.99 with a Standard Remote or $49.99 with a Voice Remote.
The Amazon Fire Tablet with 7-inch Display is closes out the company's device's related Black Friday deals. It'll sell for just $34.99 for a base model. The Amazon Fire with 7-inch Display and Special Offers normally costs $49.99. Inside every Amazon Fire Tablet is 8GB of storage with the option to add more. Amazon includes what it describes as "$10,00 in apps and games" with the Fire Tablet with 7-inch Display.
All told, these Amazon Black Friday deals offer some savings on what are already tremendously low-priced electronics. With Apple dominating high-end devices, Amazon seems to be banking on users who need a deal wanting a tablet or set-top box made by a name they recognize. Amazon promises more Black Friday deals on its devices, but doesn't say exactly what those deals will be in.
There's still plenty of devices that haven't gotten an announced discount yet. For example, the Fire HD 6, Fire HD 10 and Fire HD 8 aren't included in any announced Amazon Black Friday deals. Amazon didn't announce any savings on its more traditional Amazon Fire TV set-top box either. It's meantto compete directly with the Apple TV set-top box that arrived on store shelves last week.
Amazon hasn't said exactly when to expect this next slate of Black Friday deals, just that they're coming.
Best Black Friday 2015 Deals & Ads
Walmart Black Friday 2015 Ad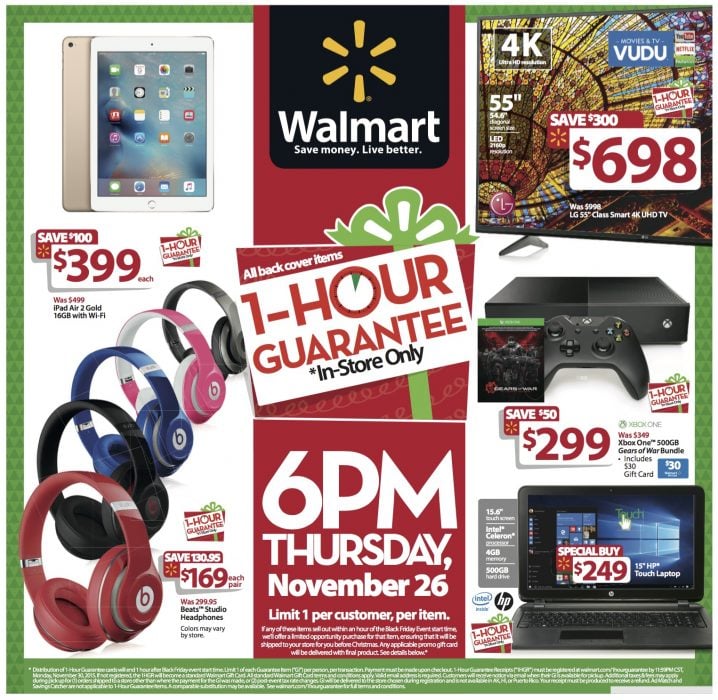 The Walmart Black Friday 2015 hours start online at 12:01 AM Pacific on Thanksgiving Day and in store at 6 PM local time on Thanksgiving. Make sure you check out the online Walmart Black Friday 2015 deals.
Today we are able to see the Walmart Black Friday 2015 ad, and it is available on the iPhone or Android before the general web. The ad includes over 300 Black Friday 2015 deals across a variety of categories.
Read: Are 1 Hour Guarantee Black Friday 2015 Deals Worth Buying?
Walmart confirmed the return of the 1 Hour Guarantee that promises availability of five big deals in the Walmart Black Friday 2015 ad. If Walmart runs out, shoppers who are in line at the right time will get an option to buy these items for delivery by Christmas. These deals include;

iPad Air 2 Gold 16GB Wi-Fi for $399 ($100 savings)
Beats Studio Headphones for $169 ($130.95 savings)
LG 55" Class Smart 4K UHD TV for $698 ($300 savings)
Xbox One 500GB Gears of War Bundle with a $30 Walmart Gift Card for $299 ($50 savings)
15" HP Touch Laptop for $249 (special buy)

Check out more about the Walmart Black Friday 2015 ad to see the deals.