Stunning Labor Day Surface Pro 3 Deal Arrives
The Microsoft Store, Microsoft's online and retail store network, isn't waiting until Labor Day to offer the best Surface Pro 3 deal we've seen yet. The savings start today and the this new Surface Pro 3 deal gets users as much as $300 off the price of Windows' premiere 2-in-1.
The Surface Pro 3 deal and other savings are available on the Microsoft Store right now. Microsoft has slashed $100 off less expensive Surface Pro 3 models and $150 off the price of more expensive models with faster processors and more storage. The company is throwing extra savings on top of those formidable discounts, with an additional $150 in savings for students and teachers. All Surface Pro 3 devices sold through the Labor Day come with a free protective sleeve too.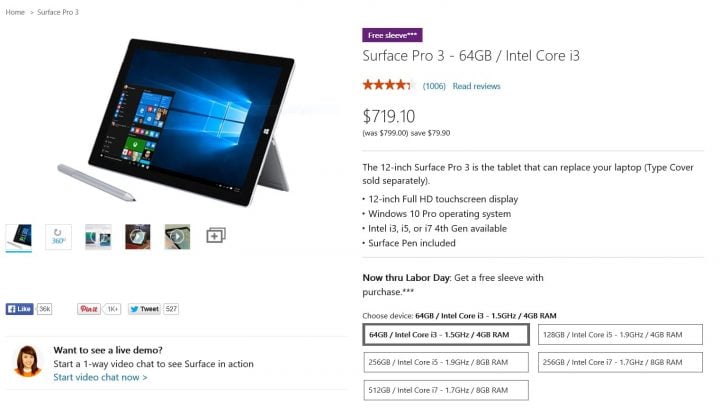 Read: Surface Pro 3 Review
The Surface Pro 3 with Intel Core i3 Processor, 64GB of storage and 4GB of RAM is just $719. This appears to be its new normal price since there isn't any student discounts or Labor Day savings to take advantage of with this model. Microsoft is throwing in a free sleeve. The Surface Pro 3 with Intel Core i5 Processor, 128GB of storage and 4GB of RAM is priced at $749 after all of Microsoft's regular savings and student discounts are applied. The 256GB Surface Pro 3 with Intel Core i5 processor is $999. The 256GB Surface Pro 3 with Intel Core i7 Processor and 8GB of RAM is $1,249. Finally, the 512GB Surface Pro 3 with Intel Core i7 Processor and 8GB of RAM is $1,649.
Normally, the 128GB Intel Core i5 device would cost $999, the 256GB Intel Core i5 device would cost $1,299, the 256GB Intel Core i7 model would cost $1,549 and the Intel Core i7 model with 512GB of storage would cost $1,949. To be clear, Microsoft is including free shipping and protective covers with every Surface Pro 3 model it sells this holiday day weekend.
To take advantage of the student Surface Pro 3 deal users need to have the correct credentials. Microsoft's website asks for some details about the educational institution the buyer attends to take advantage of the savings. Again, this information is only for the student portion of the savings. The Limited Time savings and new low regular price for the Surface Pro 3 with Intel Core i3 processor are for everyone – whether they attend school or not.
Microsoft is hoping that Labor Day shoppers taking advantage of this Surface Pro 3 deal will want to save on some much-needed Surface accessories too. Cases and sleeves sold on their own are going for as much as $20 off their regular purchase price. The Microsoft Wireless Display Adapter, a dongle users pair with their television to turn it into a wireless monitor of sorts, is $10 cheaper than it was last week. Unfortunately, Microsoft hasn't discounted the Surface Pro 3 Type Cover that it pictures with the Surface Pro 3 in its advertisements and more. That cover is a separate $125 purchase.
Microsoft is slashing prices on accessories it doesn't make too. The company has discounts going on everything from $350 off Dell's curved 43-inch display to the accessory line-up meant for the Toshiba Encore 2 10-inch tablet that media tablet lovers snapped up for each during last year's holiday season of deals.
No doubt, these Surface Pro 3 deals are pretty good. Anyone who is just starting high-school or college will need a computer. The Surface Pro 3 can be an entertainment power-house, a notebook PC and a great note-taking device. The Surface Pro 3 comes with a Bluetooth stylus that wakes the machine from sleep to take notes with just a button press.
Read: Surface Pro 3 Release & More Rumored for October
Problem is, Microsoft is rumored to be announcing a Surface Pro 4 line-up at an event sometime next month. The dramatic drop in prices with this Surface Pro 3 deal certainly leads credence to that rumor. In years past, we haven't seen big changes in pricing until the company was ready to unveil new devices.

As an Amazon Associate I earn from qualifying purchases.