Stunning New HP Elite x3 Windows 10 Phone Doubles as PC
At Mobile World Congress in Barcelona, HP unveiled its first smartphone since the ill-fated acquisition of Palm several years ago. Called the HP Elite x3, this Windows 10 Phone has flagship specs and an ecosystem of accessories that let you use it as a laptop or a desktop. Here's what you need to know.
Windows 10 Mobile is dead…at least, that's what everyone seems to be saying. Fortunately, it looks like HP didn't get the memo, because their new HP Elite x3 is one of the most interesting new phones we've seen in a while. It should first be said that HP is not planning on selling this to regular consumers – it's likely, then, that this won't be advertised by the likes of Verizon, T-Mobile, or AT&T.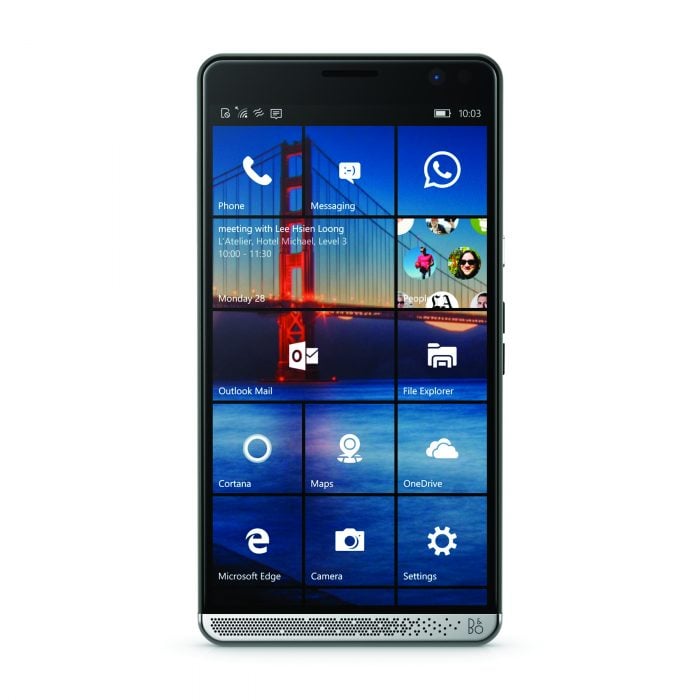 No, HP is targeting this device straight at the enterprise, and it's a smart move. The Elite x3 is built all around Microsoft's use of Continuum – that's their name for being able to use their Windows 10 Mobile phone as a fully fledged Windows 10 PC (as in, using the phone as the power behind a desktop or laptop PC). It's an interesting move, and one to which Microsoft's unpopular product might be uniquely qualified.
Most businesses don't require that much in terms of computer power for the vast majority of their employees. If you can run Microsoft's Office applications, run Outlook, run a web browser – that's really all that many office workers need. Enter the HP Elite x3. To take full advantage of the phone's Continuum features, HP is selling the device along with a series of accessories.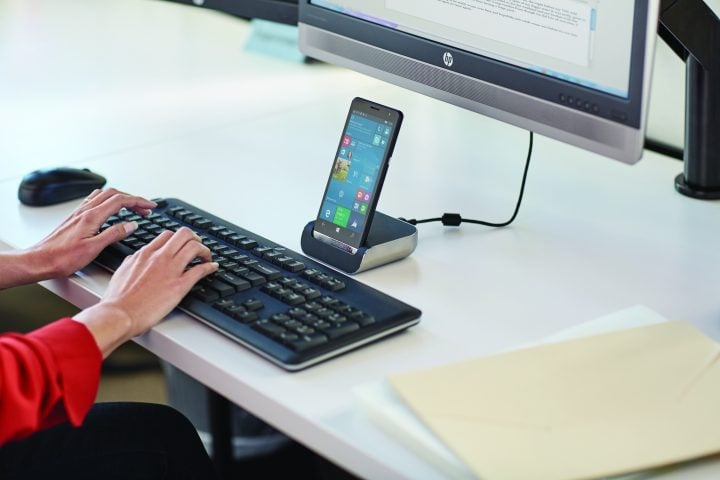 The first is called the HP Desk Dock, which sits on your desk and transforms the Elite x3 into a full Windows 10 desktop. The Dock has a DisplayPort outlet to connect a monitor, two USB-A ports, a USB-C port, and an Ethernet port, which gives HP's new phone access to secure business data – an important feature, since many companies will restrict their wireless networks to prevent such access.
The second neat accessory is the terribly named Mobile Extender; just plug your phone into this laptop shell and you have, for all intents and purposes, a Windows 10 laptop. This laptop dock has micro-HDMI and some USB ports, but for the most part, the Elite x3 gets connected wirelessly. That's a smart move: not only does it prevent your phone from being drained whenever you need to reply to a few emails, but it also means you'll be able to take a call while you're using the accessory. Since you don't need all the hardware of a regular laptop, this Mobile Extender is extremely portable: you get a 12.5-inch, HD display with almost no bezel, and all in a package of just about two pounds. There's no word yet on pricing for the accessories, or battery life in the case of the Mobile Extender.
Motorola tried this a few years ago with the Android-powered Atrix – they called their dock a Lapdock, which is a strictly superior name (but HP isn't likely to purchase the brand from Motorola / Lenovo at this point). That effort ultimately failed, but mostly because the hardware just wasn't ready to support it yet – the idea, at its core, is a good one.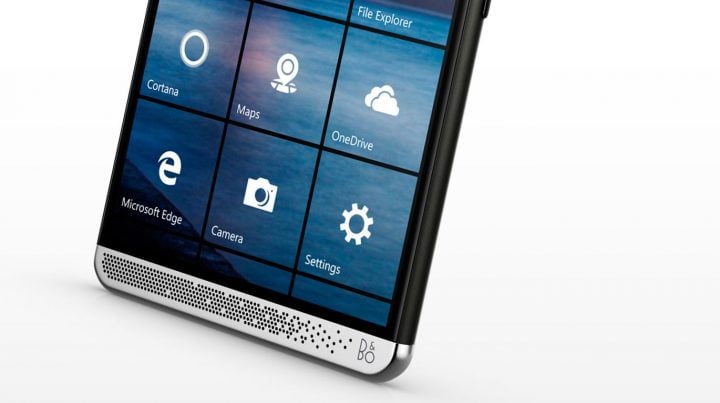 The Elite x3 is competitive with any other smartphone sold today, at least in terms of specs and hardware. There's a 6-inch, 2560×1440 display. It has 4GB of RAM and a Qualcomm Snapdragon 820 (the chipmaker's first chip developed from the ground up to be 64-bit), so as a smartphone / phablet / tablet / whatever, it should be blazingly fast (Microsoft's modern mobile operating systems have always done well with less, and they fly when given access to high-end hardware). The front facing speakers were developed along HP's partnership with Bang and Olufsen, so they should sound good – and the grille design is gorgeous.

Corning's Gorilla Glass 4 covers the front of the phone, and while HP hasn't said how much space the shipping Elite x3 will have, it does support up to 2TB in SDXC cards. The rear features a 16MP camera with flash and what HP is calling a "low light sensor." As a nod to traveling execs, there's also dual-SIM support, which is a rarity in phones shown in the west. If you're not using the second SIM slot, you can actually put another SD card in it, instead.
The real concern for most people will be the software it runs. For many people, it's a non-issue: you'll have access to the base Microsoft apps, like Office and the Microsoft Edge web browser. HP is even working with Salesforce to make sure there's a Salesforce app pre-installed on every phone. But what about other apps you absolutely need to get the job done? HP thinks it has an answer with its Workspace product.
While most of what you do on the phone will all be performed locally on the phone's hardware, HP has set up a virtualized platform for other apps. Apps that aren't built along Microsoft's universal guidelines (such apps support both the mobile and desktop Windows platforms) can be run on Workspace in the cloud. While it can't yet be said whether this will provide a suitably speedy experience, HP doesn't seem to be shying away from apps that traditionally require a beefy PC: in the video showing off the service, there's an icon for Adobe's Illustrator, among others.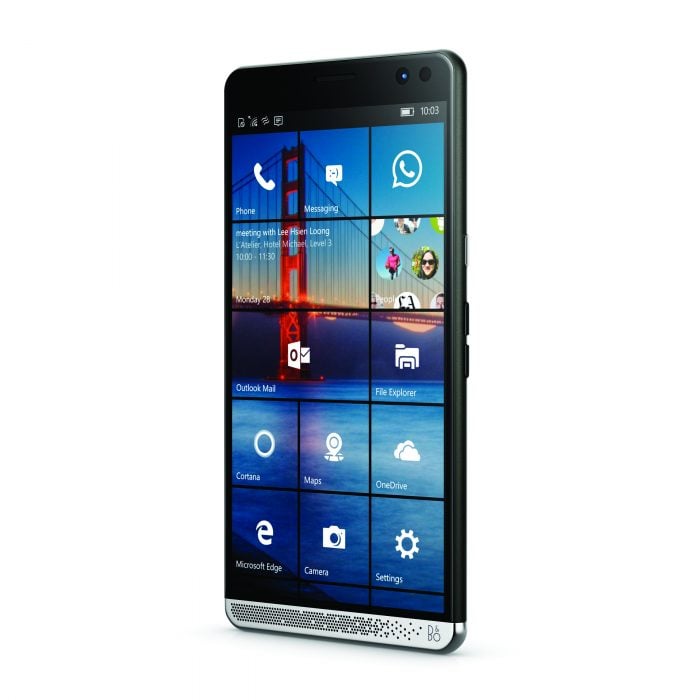 The phone is set to ship, along with its accessories, later this summer. Whether it succeeds depends entirely on the experience it provides: will the phone turn into a laptop or desktop smoothly, will the virtualized apps run well and without lag, etc. IT departments will love it, because they'll be able to support a worker's phone, notebook, and desktop all in a single device, and it'll be easier to secure, to boot. It remains to be seen whether the rest of us will.
If the Elite x3 is successful, it could set the direction for the future of Microsoft's Windows 10 Mobile operating system. Instead of trying to take on the behemoths that are iOS and Android, Windows 10 Mobile can be the LinkedIn of the smartphone world: smaller than Facebook, but a worthy product, especially for business users – and that would be okay.

As an Amazon Associate I earn from qualifying purchases.