Stunning New Xbox One Dashboard Revealed
At E3 2015 this week Microsoft is finally sharing more about a sweeping change to the software that powers its Xbox One entertainment console and what seems like a huge shift in philosophy to go along with those changes.
Microsoft revealed what it's calling the New Xbox One Experience this week. Instead of showing the software upgrade on stage, Microsoft's Larry Hyrb shared details about the coming software upgrade it plans to distribute to all Xbox One owners free of charge. The highlights are pretty basic. On a high-level the company says that the update will cut down on the amount of time it takes to do basic things like send party invites or voice chat. The company is also hoping to slash the amount of time it takes for the Xbox One software to populate with information.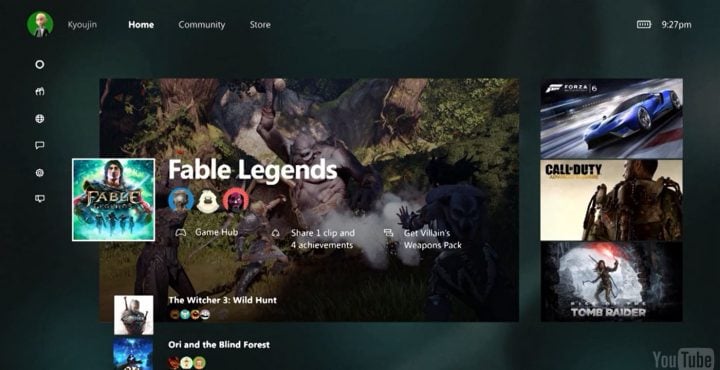 The center piece of this new Xbox One experience is a redesigned Home screen and switching experience. Today the Xbox One runs a version of Windows 8 and heavily focuses on Live Tiles to showcase relevant information to users. When you're doing something as simple as looking to see who is online, Live Tiles are great. Unfortunately, the software was very compartmentalized and forced players to dive into individual apps for more information – and sit through an egregious amount of loading time.
This new Xbox One Dashboard gets rid of the live tiles and ditches the individual apps for core services like sending Party Invites or checking messages. The Home screen is dominated by a recently played area that includes games and achievements. There's quick access to Game Hubs, sharing and downloadable content. An easy-to-spot profile area still sits on the far right side of this new interface. Besides Home, there are areas for Community and Store, each with their own distinct options.
https://www.youtube.com/watch?feature=player_embedded&v=JQNIyJhdIbk
A navigation menu on the far left side of the screen allows players to quickly browse their activity alerts, interact with their friends and snap an application. In today's Xbox One Dashboard doing any of these things requires that Xbox One owners Snap an application to the side of the screen. Microsoft says that this new update will allow users to do most tasks without taking screen real estate from their games. That's a huge change and a big issue addressed.
Xbox Avatars are back in a big way with this coming Xbox One Dashboard update. The Community area now surfaces Activity feed content without having to deep dive into a separate Friends app. Microsoft has also added its Cortana personal assistant to Xbox One. This version of Cortana can send friend requests and more, all the while being easier to interact with. Commands with Cortana are more natural and nuanced. For example, you can tell her to send a game invite to a specific friend instead of telling the Xbox to go into the Friends app and then send the request yourself.
All told, the new Xbox One Dashboard looks faster and more intuitive than its predecessor. The only thing that's drawing some raised eyebrows is the lack of entertainment features up-front and a curious move involving Pins.
Previously, the Xbox One had a dedicated Pins area that allowed you to access apps and games without deep diving. In the new Xbox One Experience Microsoft has moved pins to the very bottom of the Home screen area, forcing Xbox One owners to dive through their game library and features before they can even start an app like Netflix. Worse, Microsoft didn't show a refreshed Xbox One Guide for live television users. It's What's On area has been moved to the Community area, making it harder to find. It's entirely possible that a refreshed OneGuide and television experience just isn't ready to show. It's also possible that these changes are the latest indications that Microsoft plans to ditch live television altogether and hide entertainment apps to put the focus solely on games. It's too early to say where Microsoft is going with those features and this new Xbox One Dashboard.
The new Xbox One Experience will rollout to Xbox One owners the world over this coming fall. Presumably, members of the Xbox Preview Program will get to test it before everyone else is able to download it.

This article may contain affiliate links. Click here for more details.