Stunningly Cheap Surface Pro 3 Arrives For One Day Only
Ahead of an event scheduled for October 6th, Microsoft is offering an amazing Surface Pro 3 deal, throwing in savings for Xbox One buyers and pricing the Microsoft Band to move very, very quickly.
Eagle-eyed Microsoft Store shoppers noticed the lower prices on the Surface Pro 3, Microsoft Band and other items this morning. The savings is part of what the Microsoft Store is calling a One Day Sale.
First there's the cheap Surface Pro 3. Until today, Microsoft had only lowered the price of the Surface Pro 3 models that cost $999.99 or more. For one day only the company is throwing caution to the wind and even pricing the entry-level Surface Pro 3 to move quickly. The Surface Pro 3 with Intel Core i3 processor and 64GB of storage is just $649. The $999 Surface Pro 3 is $100 off too and every Surface Pro 3 comes with a free sleeve.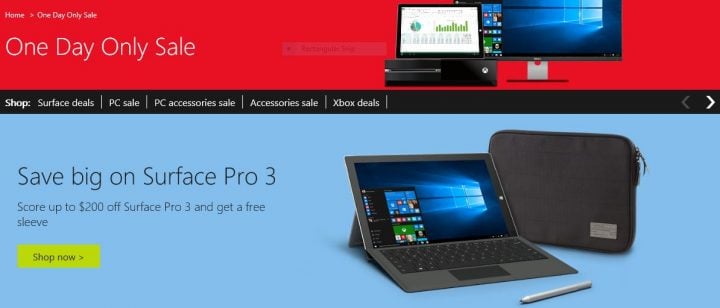 Users willing to purchase a refurbished Surface Pro 3 stand to save slightly more. Microsoft is selling the refurbished models with Intel Core i3 processors for $639.99, just a bit less than new versions. The Intel Core i5 Surface Pro with 128GB of storage is available for $799.99 when purchased refurbished.
Read:  Surface Pro 4 Release Date Tipped for October
Helping to fill out this One Day Sale are other items from Microsoft's partners. Notebooks and desktop PCs are selling for up to 30% off their regular price. Other devices in Microsoft's line-up are included too, the Microsoft Band, a fitness band that also includes integration with Microsoft's Cortana personal assistant is just $149.99. To use all of its features you need a Windows Phone, but it can also be paired with an iPhone and Android device with a free companion app that's available in iTunes and the Google Play Store.
Anyone who purchases physical copies of Madden NFL 16, Mad Max, Gears of War Ultimate Edition, GTA 5, Far Cry 4, Lego Jurassic World, Just Dance 2015, Forza 5, Saints Row, Pay Day 2, Sunset Overdrive, Residential Evil: Revelations 2, Evolve, State of Decay, ScreamRide, Sleeping Dogs, toy Soldiers, Rare Replay, The Crew, Dying Light, The Evil Within, Middle-earth: Shadow of Mordor and The Amazing Spider Man 2 all get a $10 Microsoft Store gift code.
Xbox One bundles come with a $50 Microsoft Store Gift Code and a copy of Assassin's Creed Unity.
Some believe that this cheap Surface Pro 3 deal and savings on the Microsoft Band have arrived. It's at the aforementioned October 6th event that many believe the company will announce a new Microsoft Band and a Surface Pro 4. It makes sense that Microsoft would try to unload as many Surface Pro 3 devices as it possibly can before it makes an announcement about new hardware. The Surface Pro 3 was the first highly successful Windows 2-in-1 from Microsoft. It debuted last May with more power, better battery life and a thinner profile than every Surface Pro before it.
The Surface Pro 3 has a 12-inch touch-screen display and uses Intel Core processors so that it's able to run apps downloaded from the new Windows Store and programs downloaded over the internet. It comes with a pen that lets users quickly takes notes with the push of a button or navigate the operating system without a mouse. Because it has a touchscreen users don't need a keyboard. They can buy one separately for another $129. They can also use the keyboard they already have; the Surface Pro 3 has Bluetooth and a full size USB port.
Shoppers holding out for the Surface Pro 4 definitely shouldn't move on this Surface Pro 3 deal. It's way too close to that October 6th event. Users who like the Surface Pro 3 should take a look at the Microsoft Store One Day sale as soon as possible.