Stupid Headline Writing 101: Wall St Journal and Google Gears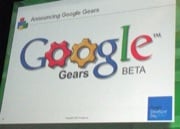 We've had some bad headline writing here at GBM on occasion and no one is really immune to a bad day, but you would think that the Wall St Journal would know better. This morning they published a headline that stated Google Gears Down for Tougher Times.
The article speaks about how Google, like any business is having to cut back and retrench during the recession (now that we know we've been in one for quite awhile after yesterday's news), and that is certainly to the point. But I'm guessing I'm not the only user of the Google Gears software who saw that headline and did a double-take, thinking that the app was on the fritz.
Oh, well.

As an Amazon Associate I earn from qualifying purchases.