Subsidized (AT&T) Acer Aspire One Coming to Radio Shack for $99?
Engadget is reporting that the Acer Aspire One might be the first carrier subsidized Netbook to hit the US. It looks like the carrier would be AT&T and it arrives via Radio Shack. The subsidized price is $99 (without the subsidy $499). Of course with the subsidy you're on the hook for 2 years at least $60 a month. Here's a pic of the ad Engadget is showing.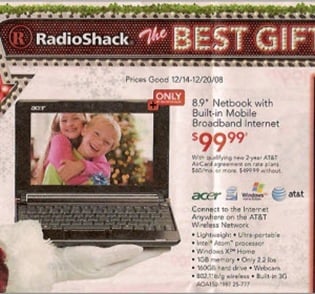 This article may contain affiliate links. Click here for more details.