SugarSync Review: Back Up and Sync With Multiple Computers – Better Than Dropbox
SugarSync automatically copies your chosen folders between multiple computers and makes them available online for later access and sharing. It has been a popular service, but admittedly stays in the shadows of the more ubiquitous and popular DropBox. Can SugarSync measure up to DropBox? Is it worth the trouble to switch if you are already a DropBox user? We attempt to answer these questions.

I have been using DropBox for more than a year after seeing that my previous favorite – Windows Live Mesh – was not developing quickly enough. When SugarSync upped its free storage total to 5GB from 2GB, it got my attention. When the SugarSync people offered to give us a look at the service I jumped at the opportunity.
How SugarSync Works
If you haven't heard of SugarSync, check out the company's promo video below:
https://youtu.be/oYpAHcNKGV0
The service has three parts. First, SugarSync is a file syncing service. After installation, you select which folders on your hard drive to sync between your computer and the other computers you own. Second, there is an online backup function. There are a few special folders that are available when you log into your online account. They are as follows:
Magic Briefcase – a folder that you can use to quickly backup files online and to sync with other computers
Web Archive – a place to store files you may not need on all or any of your computers; think of it as a file attic where you can clear out the clutter from your computer without throwing it away
Shared Folders – folders shared with specific people who are also SugarSync users – this is the third part of the service
Public Files – a folder of files that people can access if they know the URL without being SugarSync users – also part of the third part of the service
Contacts – your contacts backed up to the web
Deleted Files – these are the files you deleted from your synced folders which are automatically backed up in case you would like to restore them later
The third part of the service is file sharing. It uses the Shared Folders and Public Folders listed above to let you quickly share files either with specific people (shared folders) or anyone (public folders). I would use the shared files folder to send family pictures but the public file folders to post a link to a file online, like at Facebook or a blog.
Differences Between Other Services
The folks at SugarSync know that DropBox is more popular right now. They just don't understand why. When you look at some of the key differences we have to say we understand their confusion. SugarSync produced a comparison chart that shows the benefits their service offers over the other major syncing services. We are usually skeptical of such lists since companies often skew the information to make their service look better. They might leave off ways that the other services are better than theirs. We don't think SugarSync has done this. The list is comprehensive and clearly shows that many of the other syncing/backup services are nearly as feature complete as SugarSync. In one category it shows that DropBox has the edge (see last bullet point below). However, our own objective comparison agrees with theirs.
Free storage is 5GB compared to 2 with DropBox
Backup any folder on the computer while DropBox restricts the user to one special DropBox folder
SugarSync allows users to email files to your online storage
SugarSync allows some online editing of files
SugarSync has a built-in media player that streams to web browser, iPhone, Android, Symbian and other devices via mobile browser much like the new Amazon Cloud Drive with more features
SugarSync has more international language support
DropBox supports Linux in addition to Mac and Windows while SugarSync only has a client for Mac and Windows
You can check out the list to see how the service compares to other sync services like MobileMe, Carbonite, Mozy or Windows Live Mesh.
Client Software
The SugarSync client software helps the user work with their files and make sure they are properly synced, backed up and shared. When it is installed on a Mac it runs in the menu at the top right of the screen, while on Windows it runs in the system tray in the lower right. The two are functionally the same regardless of which platform you use. We used it mostly on a Mac for this review, but the Windows installation we have was not significantly different and performed as well.
You can click the menu/system tray icon and instantly see how much of your storage is being used and how much you have left. You can also do things like add storage, sync more folders and manage which folders are synced with which computers. Here is also where you change preferences.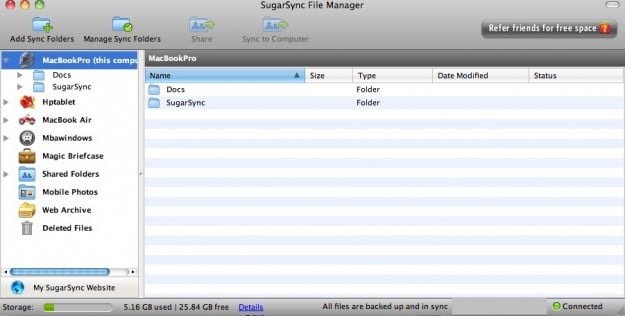 Click on the SugarSync File Manager to open the above window where you can control most of the features of the service and access files from your other computers. You will notice above that all of my computers show up at the top of the left hand list. Special folders are below them. The toolbar has controls for handling which folders are synced or not and which are shared with others.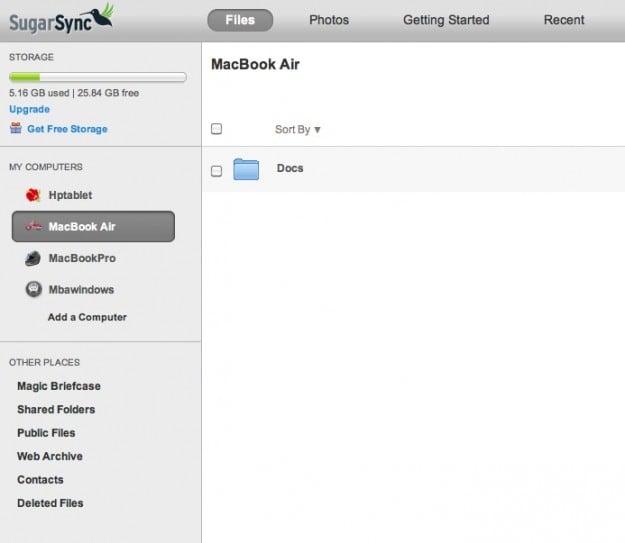 The online site looks a lot like the file manager (see above). This also where you can add a new computer. Click the "Add a Computer" link to download the client software so you can install it to the new computer. SugarSync supports Mac OS X and Windows.
Your files are stored both on the computer and in this online storage. That way you can easily access the files synced from a specific system even if that computer is not running.
Mobile Apps
A lot of us use mobile devices like smart phones or tablets and need access to files from our computers while on our mobile devices. SugarSync has a pretty good iPad app. You can download all the files you have backed up using the service from any device or your special folders like the Magic Briefcase or Web Archive. When you open a file in the app it has the iOS "Open In…" feature where you can open the documents in other supported apps. For example, you can open documents in Pages, presentations in Keynote or PDFs in your favorite PDF viewer like PDF Expert.
The new photo features are very good. You can take a picture through the app if you have an iPod Touch 4th Gen, iPhone or iPad 2. They will automatically upload to your SugarSync's mobile photos folder which is then automatically synced with your computers. This also works on the Android app. You can also upload photos from your camera roll too.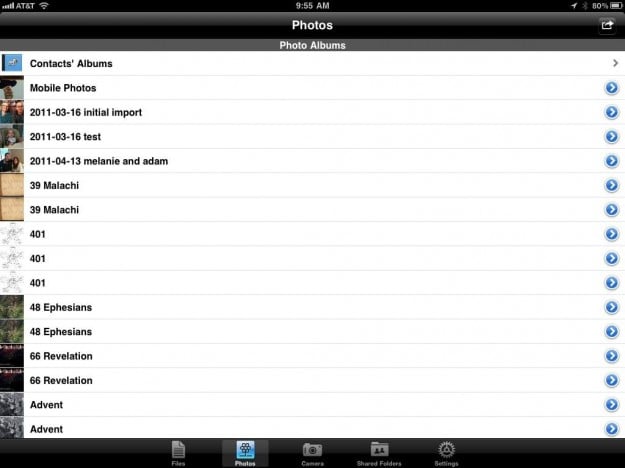 Below is the Settings page in the iPad App.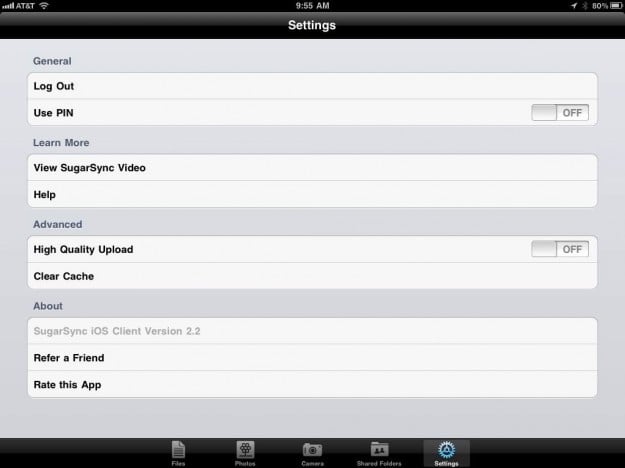 On the Android side our editor Josh Smith did the review. He said:
The Android app gives easy access to your SugarSync files and thanks to the new photo backup feature you can make sure that you have backups of your photos, which is more important than ever with the recent crop of smartphones with great cameras.
There are a number of other apps that have SugarSync support including the following:
Conclusions
We were really impressed with SugarSync. For people who are starting from scratch, this is the service to use. The free 5GB of storage is more than double what DropBox offers. It is fast and is more versatile allowing any folder on your computer to be synced. DropBox only gives you 2GB and requires all the files to be stored in the DropBox folder. If you are a Carbonite user, you will like that even external drives can be backed up and synced using SugarSync, something not possible on Carbonite. The uploading process was much faster with SugarSync than it was with Carbonite. It is worth noting that Carbonite is unlimited in backup size.
DropBox has sharing features, but they count all of those shared folders against your capacity limit. Let's say you have a shared folder for pictures that you and your parents use. It contains pictures of the grandkids, so your parents can see their grandkids grow up even if they live far away from your family. If grandma accidentally uploads a GB of her own pictures of the senior citizen's picnic to the folder, then they will be downloaded to your computer and count against your 2GB limit. This will slow down your connection as they download or worse put you over the top of your 2GB limit. With SugarSync those shared files don't count against the limit. If you have 3.4GB of files and your mom accidentally shares her gig of pictures with you, you still only have 3.4GB of files according to SugarSync. The other 1.6GB is still free for you to use. The 1GB of picnic photos will count against grandma's limit only.
DropBox does have one advantage. It is used by more people and incorporated into more apps and services. For example, there are more iPhone or iPad apps with DropBox integrated than SugarSync compatible apps. Be sure your favorite apps work with SugarSync before you switch. If your favorite apps don't work with SugarSync, then see if there is a suitable alternative or request that the developer add support. Some app developers are quick to respond to user requests, especially if a lot of users are asking for it.
For users who need extra storage, SugarSync is cheaper than DropBox. SugarSync costs $100/year for 60GB while it only gets you 50GB/year on DropBox. SugarSync charges $149 for 100GB while DropBox will charge $199 for the same space. DropBox offers incentives and games to upgrade your storage for free. You can get up to 5GB. SugarSync also has incentives that will potentially double their free storage too. Their limit is 10GB.
I had one issue with SugarSync while using the iOS app Documents to Go, which is an office style suite for the iPad. It works with both services, but when I really needed to download a file to my iPad from my MacBook Pro, the app gave me the following error.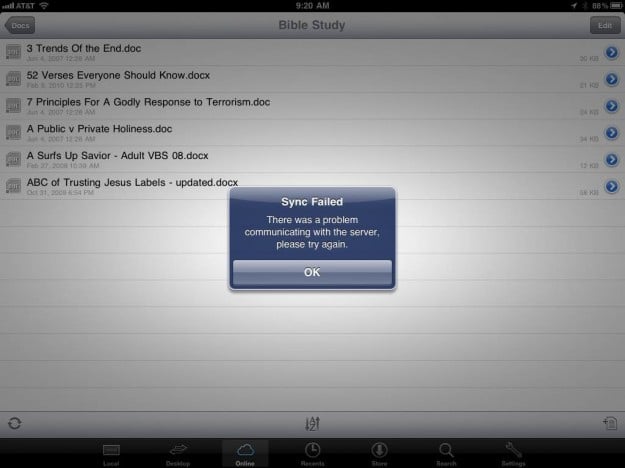 The good news is removing my account and then adding it back fixed the problem. The support folks from both SugarSync and Documents to Go were quick to respond. If you use the service with this app and see this error, then be sure to try removing the account in Settings and see if that fixes the issue.
Despite the above issue, SugarSync is the best option available for syncing, backing up files online and for simple file sharing. The good news is you don't have to limit yourself. Go ahead and use both. Pay for SugarSync if you need more than 5GB and use it to back up, sync and share files. Use DropBox to back up your most important files so that you have them backed up in two different services. This also gives you interoperability with others who haven't seen the value of SugarSync over DropBox. When someone sends you a DropBox link you can access the shared folder. Then send them an invite to SugarSync and if they sign up you get extra free storage. Combining the two you can get up to 15GB of free storage if you participate in all of each company's upgrade incentives. You will get 7GB if you don't.

As an Amazon Associate I earn from qualifying purchases.