Sumocat Continues Working on His Ink Blogging Tool
Build 52 is Mark "Sumocat" Sumimoto's Ink Blogging tool that allows Ink Bloggers to link in ink. It has been around for some time and now he's doing some updating of the tool. Build 52 v2 is now in public Beta presaging some new things to come.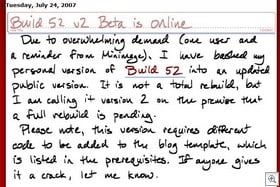 Along with announcing the beta of version 2, Sumocat links (in ink) to another blogger who's laying some Ink down. Check out the Rev Michael Penman's blog, The Hallel Report.

As an Amazon Associate I earn from qualifying purchases.