Live HTC Flyer Review: First Impact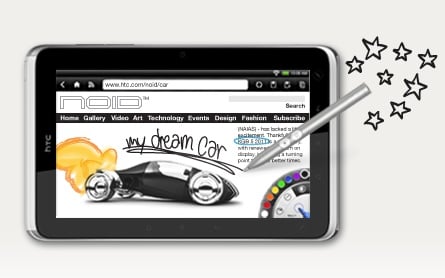 As you may have already seen, I am now evaluating the HTC Flyer, a 7″ Android tablet with a twist – active pen input. That makes it of special interest to me, Sumocat, The Father of Ink Blogging, and I've wasted no time spilling ink on this thing with realtime reporting. Let me tell you how it's going down in this first part of my ongoing report.
[Click here for Part 2 of my live review "Inking Experience", here for Part 3 "Video on the Go", and here for my ongoing ink note-taking in Evernote.]
In case you missed all our previous coverage on the Flyer, let me recap by explaining it's a small tablet running Android 2.3 with the HTC Sense 2.1 UI for tablets. What sets it apart from the crowd is a focus on pen input via an active digitizer from N-Trig and dedicated pen features, like a button for screen markup and note system designed for handwriting. For a pen tablet veteran like me, this attention to pen input has been delightful.
Further sweetening the pot is that the built-in note system is integrated with one I already use: Evernote. Since I already publish thoughts via a public Evernote folder, it was only natural that I blog about this thing in realtime. I'm creating ink, photo, and (eventually) voice notes on an ongoing basis, posting them with every Evernote sync to provide live examples of the Flyer's performance (also on my Twitter feed). I will put those together in summaries here at GBM.
Trial by Fire
As it happens, the timing of my evaluation overlaps with an event for work. I will be performing press and PR functions at the Society of Nuclear Medicine (SNM) Annual Meeting in San Antonio from June 4 to 8. Video and social media interaction will be major parts of that, and the Flyer will be my go-to device for that. No better test than doing.
Our videos for the event will be posted on YouTube. While the subject matter will be of little to no interest to anyone here, I will share a few here as examples of the camera's performance. If any company is showing off tablet apps at their booth, I'll do my best to grab that.
Note-taking so far
Too soon for me to pass judgment on the Flyer yet, but I am really enjoying it so far. The Evernote integration and dedicated pen features make note-taking almost too easy. A bezel button works specifically with the pen to change up pen options, like tip style, thickness, and color. HTC put a button for notes right in their custom dock. Pressing the pen to the screen outside apps designed for pen enables screen markup. It's a truly pen-centric experience.
That experience is in stark contrast to the add-on treatment of the pen itself. It does not ship in the same box as the Flyer. There's no place to dock it in or tether it to the tablet. I heard a commercial on the radio promoting it as a free bonus accessory. The dichotomy here is pretty strange.
For me, carrying the pen separately from the tablet hasn't been a problem. I used to carry a second pen for my Tablet PC as my primary, leaving the stock pen in the garage as backup. I even fitted the pen with a cap from a marker to add a clip to it. Finally putting those years of pen experience to good use.
So that's how things are shaking down with this review. I'm forming opinions (and solutions) on portability (Not pocketable? Get a bigger pocket.), ink smoothness (it's not all about the digitizer), and mobility (Wi-Fi is not enough for the form factor). I'll hit those points as the review goes along.

As an Amazon Associate I earn from qualifying purchases.