Super Bowl 2013 Companion Apps
With Super Bowl XLVII between the San Francisco 49'ers and the Baltimore Ravens starting in a matter of hours, we wanted to share some recommendations for apps to install on a smartphone or tablet to help readers enjoy during the game.
We already shared how to watch the Super Bowl while mobile on Android and on iPhone or iPad. This post focuses on watching the game on a TV or other device while using a tablet or smartphone to add enjoyment as a second screen
Start downloading and enjoy Super Bowl XLVII later today. All of the apps are free unless otherwise noted.
Super Bowl 2013 Commercials
The iPhone and iPad app Super Bowl Ads for $1.99 lists ads from Super Bowls plus Super Bowl XLVII as they become available. The app helps user find all the ads in one place.
Don't forget YouTube for iPhone and iPad and for Android. Search for Super Bowl XLVII Ads to see a huge collection of ads from this year and the past.
Hulu Plus Adzone feature, part of the official app for iPhone/iPad and for Android, lists Super Bowl Ads. Using it on a smartphone or tablet will cost users $7.95 per month. Computer users can enjoy Adzone on the Hulu website for free.
Sports Apps
CBS will broadcast the game so get the CBS Sports Mobile app for Android or iOS. It shows scores and news with an in-game tracker.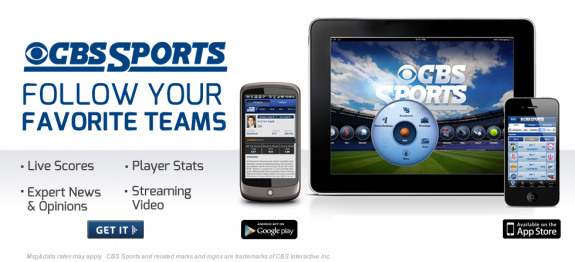 CBS Sports Caster takes the game news and marries it to curated Twitter content. It comes for both iOS and Android too.
We already mentioned the NFL Mobile app in our post on how to watch the game. Verizon customers should get it for Android and iOS. Download the app for free. Watching the Super Bowl costs extra.
The NFL put together an official digital Super Bowl XLVII Guide app, which shares information about the game. The app also offers info about getting around New Orleans and news for those attending Super Bowl XLVII weekend. Get it for the iPad or iPhone and for Android.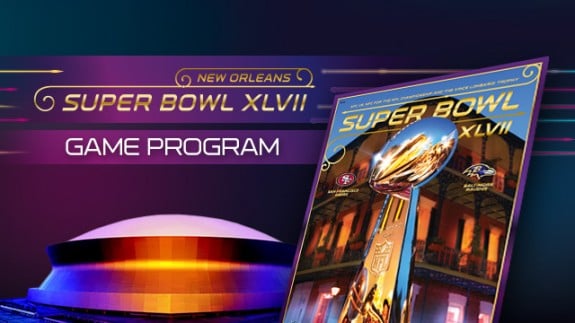 Attendees can get the official NFL game program in dead-tree form, but the NFL also makes it available as a digital download for tablet users. Find links at the NFL site.
During Super Bowl XLVII
Getty Images will post pictures during the game on their Facebook page. See the action up close through the lenses of their excellent photographers. Hit the previous link and "Like" the page to follow them during the game.
Speaking of social networking, don't forget that using your favorite social networking apps helps fans interact even if they're not in the same room.
A few of the social networking entertainment apps will entice viewers to their services during the game. IntoNow plans to let viewers vote on the ads during the game. Get the app for iOS and Android. As mentioned, Hulu will offer ads in Adzone. They're also teaming up with GetGlue to offer special Super Bowl XLVII related stickers to collect as they watch the game.
For iOS users, check out ConnecTV. They provide a special Super Bowl XLVII chat section during the game.

This article may contain affiliate links. Click here for more details.