Super Bowl 50 Date, Time & Halftime: Panthers vs Broncos
"When is Super Bowl 50?" If you need to double-check the Super Bowl 50 date, time and TV schedule you are not alone. Whether you tune in for the Panthers vs Broncos, to watch the Super Bowl 50 halftime show or just to watch the Super Bowl ads, we have you covered with the important details that you need to know about Super Bowl 2016.
This is not Super Bowl L, despite the norm of using Roman Numerals to signify the ultimate game of football. Instead the NFL simply calls this Super Bowl 50 and many fans are calling it Super Bowl 2016.
Buying a Super Bowl 50 ad is expensive at $5 million for a 30 second ad, and there will be more ads than real gameplay as announces Jim Nantz and Phil Simms cover the game for CBS.
CBS will record Super Bowl 50 with 5K cameras, but there is no Super Bowl 50 4k broadcast this year. CBS boasts that there is a new EyeVision 360 camera system that will deliver high-resolution replays and this will be the first Super Bowl with pylon cams.
Here is a look at everything you need to know to plan, watch and enjoy the game including the answer to, "When is Super Bowl 2016?" with breakouts of other specific times that you need to know about and key details.
When is Super Bowl 50?
Super Bowl 50 is February 7th, and it takes place at Levi's Stadium in San Francisco. The Carolina Panthers and Denver Broncos will play in this neutral location to see who is the ultimate champion of the NFL this year.
Levi's Stadium features an upgraded infrastructure with new WiFi access and mobile phone antennas spread throughout the stadium.
What is the Super Bowl 50 Channel?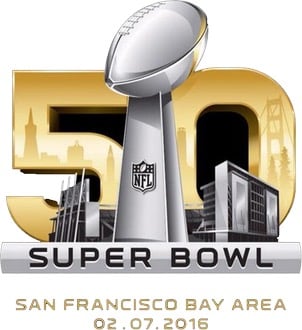 The Super Bowl 50 channel will vary from location to location, but it is on CBS everywhere, so you just need to figure out what channel CBS is on your TV or with your antenna.
With CBS you can watch the pre-show, Super Bowl 50 and the Super Bowl 50 halftime show as well as post-game coverage.
You can also stream Super Bowl 50 on many devices using the information further down this page.
What Time is Super Bowl 50?
The Super Bowl 50 start time is 6:30 PM Eastern, but there are a variety of additional times to keep in mind.
Check out the bullet list below to see what time the Super Bowl 50 kickoff is in your time zone.
Super Bowl 50 Kickoff Time
6:30 PM Eastern
5:30 PM Central
4:30 PM Mountain Time
3:30 PM Pacific (Stadium Time)
2:30 PM Alaska
1:30 PM Hawaii
11:30 PM London UK
10:30 AM Monday Sydney Australia
2:30 AM Monday Saint Petersburg Russia.
You can expect to see a pre-Super Bowl 50 show that starts 30 minutes before kickoff, which comes at the end of a four-hour Super Bowl pre-game show.
There are a variety of events throughout the week and during Super Bowl 50 in San Francisco.
What Time is Super Bowl 50 Halftime Show?
An average Super Bowl game lasts four hours with a 30-minute halftime show built-in according to Chat Sports. This is about 45 minutes longer than an average NFL Game, due to more ads, a longer halftime and perhaps more replays.
The Super Bowl 50 halftime start time will likely commence around 8 PM Eastern/5PM Pacific, but this is an estimate based on averages. If you want to see Coldplay, Bruno Mars and likely Beyonce on stage you will need to tune in around this time.
According to the Super Bowl committee, "Coldplay front man Chris Martin is designing a show that will echo elements of the NFL's On the Fifty campaign – honoring the past, recognizing the present and looking ahead to the next 50 years, including other special artists."
The Pepsi Super Bowl 50 halftime show start time will depend on how the game progresses, and will likely feature just under 13-minutes of actual performances from Coldplay, Beyonce and Bruno Mars.
Super Bowl 50 Streaming Options
There are a number of ways to watch the big game and plenty of live Super Bowl 50 streaming options for your TV, consoles, computers, tablets and smartphones.
The CBS Sports app offers a 2016 Super Bowl live stream for users on the Xbox One, Apple TV, Chromecast, Roku and Windows 10. There is no PS4 Super Bowl 50 live stream option. Users can also go to CBSSports.com to stream on a computer.
The Verizon Wireless NFL Mobile app offers a 2016 Super Bowl live stream to iPhone and Android if you are a Verizon customer.
You don't need to be a cable subscriber to watch a Super Bowl 50 livestream, so there are plenty of ways for you to watch the game this year.
Super Bowl 50 Odds
There are a ton of Super Bowl 50 odds to know about including a variety of Prop Bets including how long the National Anthem will last, the Gatorade Color and more. Check out what you need to know about the Super Bowl 50 prop bets and Super Bowl 50 Odds.

As an Amazon Associate I earn from qualifying purchases.