Super Bowl is Super Dangerous for Smartphones Especially for Seahawks Fans
Did you know that 1 in 5 smartphone owners damage their precious device while watching a sporting event? Some of the damage comes from weather damage, some from dropping the device, and some even from dropping a smartphone in one's beer. So, whether you're watching Super Bowl XLVIII live, in a bar, at a party, or in the comfort of your own home, you might want to make sure you take some precautions so you don't fumble your smartphone away.
SquareTrade has come up with some interesting statistics that show just how clumsy some smartphones users are when they get wrapped up in watching a sporting event. SquareTrade is an insurance service you can purchase plans from to protect your mobile devices in case of an accident. As they've processed claims they've compiled a list of some of the occasions for damage at sporting events and some of the data is quite interesting.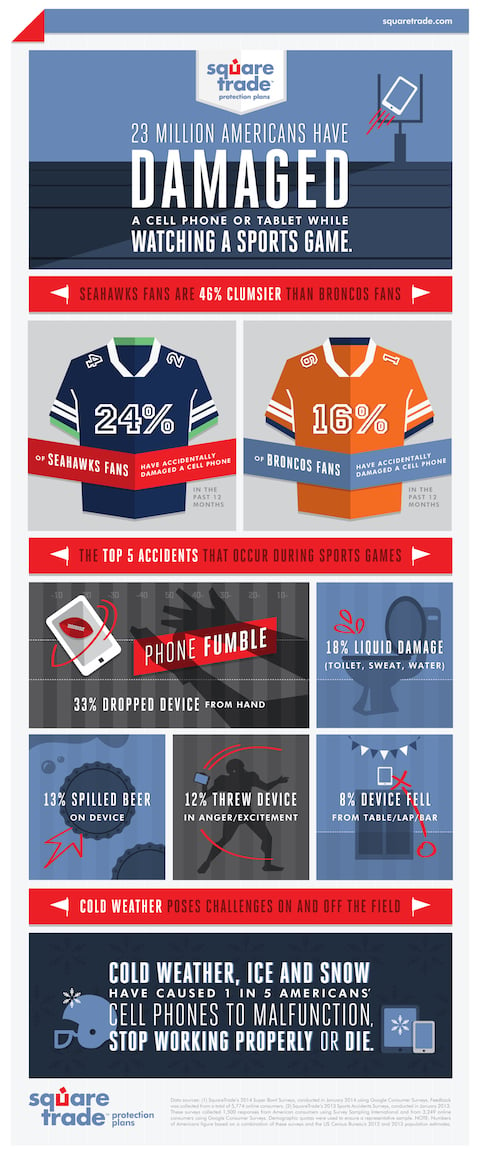 For example, the Top Five Spectator Gadget Accidents are:
The standard drop: device dropped from hand – 33%
Liquid drops, the most common of which are toilet drops, sweat and water spills – 18%
Beer drops – devices dropped in beer –13% – it's more common than you would think!
Passion drops: devices thrown in anger or excitement – 12%
Bar drop: devices falling from a bar or table – 8%
SquareTrade has also determined that Seattle Seahawks fans are 46% more prone to fumble and damage their devices than Denver Broncos fans. 24% of Seahawks fans had a smartphone accident in the last year compared to 16% of Broncos fans. That makes sense as the Seahawks and their fans are comparative rookies when it comes to the big game.
Of course extreme temperatures can come into play as well. Current predictions for Super Bowl XLVIII, which is being played in a northern outdoor stadium, call for mild winter temperatures in the 40's with very little chance of precipitation. So it looks like smartphone users in the stadium might be OK on that front after a very cold past week for most of the country.
Read: BRRR! Your Mobile Devices Might Not Like This Bitter Cold
SquareTrade offers the following tips for protecting your device at a sporting event:
Keep your phone at hand but not in hand – like the precious TV remote, find a place that is close to the couch and easy to find
Count to ten after all suspect calls or player mistakes
Never use or take out your device in the bathroom
Protect your phone and promote your team with their official phone cover or create your own through LikeMyCasehttps://www.likemycase.com/usa/
If cold weather calls are a must try Glove Phone – Bluetooth enabled mitts
But the safest bet of all might just be to put your phone away and sit back to enjoy the game. Especially if you're prone to throwing objects if things don't go your team's way.