Super Smash Bros for Wii U Review is Too Funny to Miss
The Super Smash Bros for Wii U release date isn't due until the holiday season, but the first Super Smash Bros for Wii U review is already live, with a hilarious look at the characters, gameplay and levels.
Even though the 9-minute Super Smash Bros for Wii U video only includes about five minutes of actual gameplay, you get to see two player and four player battles in the new Super Smash Bros game played by Conan, his dedicated gaming partner and other Conan staff members.
Read: How to Play the Best Games Early Without Being Conan
One thing that you'll notice right off the bat is that the players aren't using a Wii U controller to play Super Smash Bros for Wii U. Nintendo is releasing an adapter that allows users to plug a GameCube controller into the Wii U for a more familiar Super Smash Bros experience.
Watch Conan's early Super Smash Bros for Wii U review video for what may be the funniest Nintendo game review to date. You'll also learn what costume to avoid wearing if you meet Conan, and his affinity for a birthday suit Samus.
Conan and the other players battle through several levels in the unfinished game. It's tough to follow exactly what levels they pick, but if you watch the video above you'll see a variety of scenes with environment additions like Chomp, an array of weapons and many characters in action.
At the start of the Super Smash Bros for Wii U video, you also get to hear Conan make fun of some of your favorite childhood game characters.
The Super Smash Bros for Wii U release date will include the GameCube Controller Adapter for Wii U. There is no official price yet, but this small adapter will allow gamers to plug-in up to four GameCube controllers to the console using two USB cables. This is a major plus for gamers who prefer the more traditional controller style for Super Smash Bros. if you don't have your controllers, it may be a good time to pick them up before the rest fo the world figures out and starts buying them.
Super Smash Bros for Wii stays true to the traditional gameplay, and should deliver hours of fun for gamers who want to enjoy fun, button mashing battles that can also combine strategy if you want to get more advanced. The basic element of Super Smash Bros for Wii U is to knock your opponents off the ledge. If you get knocked off the ledge you can use jumps and special moves to get back on — just watch out for another smash that can send you flying even further.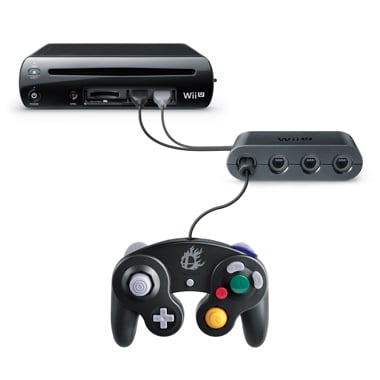 One of the most enjoyable parts of older Super Smash Bros games is the ability for anyone to pick up a controller and get into the game. This is something Conan shows off when he plays by hitting the controller on his chest. Obviously fingers are a better choice, but it illustrates how easy it is to jump in and start playing a game like Super Smash Bros for Wii U.
Nintendo is searching for a way to sell more Wii U consoles and compete with the Xbox One and PS4, which offer more graphically stunning gameplay and numerous titles that don't come to the Wii U. Super Smash Bros for Wii U and Mario Kart 8 are two games that Nintendo is banking on to help sell Wii U consoles and bring gamers back to the company.
In addition to the Wii U version there is a Super Smash Bros for Nintendo 3DS release on the books for October, which will give more gamers a chance to experience the fun of a Super Smash Bros battle.

As an Amazon Associate I earn from qualifying purchases.