Super Smash Bros Wii U Comes to Life with Skylanders-like Figurines
Nintendo's Wii U hasn't been selling as well as the Xbox One and PS4. As such, Nintendo has vowed to do whatever it takes to attract and keep users interested in the console and it appears that includes adding NFC-equipped figures like those created for the Skylanders series of games to Super Smash Bros for Wii U.
Reports of Nintendo bringing NFC-quipped figures to Super Smash Bros were more or less confirmed this week when Nintendo of France's managing director Steven Bole told Le Figaro, that the game would be using NFC technology in a recent interview.
According to a rough translation of Bole's remarks to the news outlet, users won't have to wait long to see what Nintendo has in mind. After saying users should expect Super Smash Bros Bole went on to say , "E3 is also an opportunity to show the use of NFC technology in Nintendo consoles. The NFC will be used in the Wii U version of Super Smash Bros."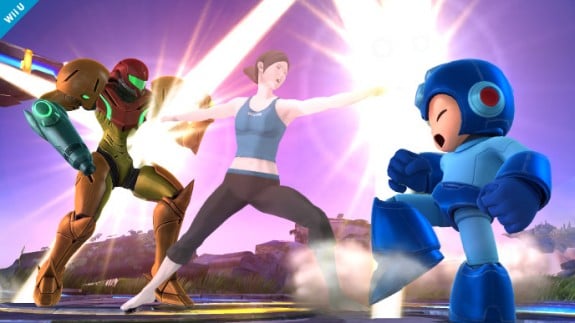 While most reports indicate that the Wii U includes NFC or Near Field Communication technology, it's actually the Wii U's innovative touch-screen controller that includes the technology. NFC allows two objects to communicate with each other quickly. Users can purchase NFC tags and pair them to their smartphones to quickly launch apps and change their smartphone's settings. Most Windows Phones and Android devices include the technology today. Apple's iPhone does not.
It's also worth noting that the Wii U's touchscreen controller, properly known as the Wii U GamePad also includes an infrared sensor so that it can communicate directly with user's televisions and replace their remote, kind of like what Microsoft does with the Xbox One's Kinect 2 sensor.
Adding NFC figurines to Super Smash Bros for Wii U could seriously boost the profile of the Wii U. Super Smash Bros has sold millions for years, but at it's still a fighting game at its core. That doesn't mean that users shouldn't be excited for the game, Super Smash Bros has always been fun and Nintendo is adding even more characters for users to play. In recent years, being able to buy physical objects as power upgrades has caught on with older and younger gamers alike. Both like the idea of physical power ups that they can place in game to fight other users or put them on a shelf to display along with their other collectibles.
Read: Nintendo Bets on Live Video and Super Smash Bros. Wii U for E3 2014
Presumably, that's what Nintendo is planning to do with its support for NFC in Super Smash Bros. On paper Nintendo has all of the raw ingredients it needs for these figurines to be successful. Super Smash Bros allows players to select Nintendo's most memorable characters like Mario and Pokemon's Pikachu and use them to fight against each other. These high-profile characters should lead to more sales of these NFC figures and Super Smash Bros for Wii U.
Whether this will be enough to boost sales of the Wii U remains unclear. Sony's PS4 gaming console recently surpassed the Wii U in terms of sales and the Wii U arrived on store shelves the year before. That figure is more embarrassing considering the Wii U costs $299, $100 less than the PS4.
For the most part, the Wii U's problem seems to be that Nintendo has once again failed to generate any interest from third-party developers. As such, users who are looking for games like Batman: Arkham Knight, an adventure game coming later this year, are better off purchasing a PS4 or Microsoft's Xbox One. For example, Batman: Arkham Knight won't even make it to the Wii U and Ubisoft has delayed the launch of the Wii U version of Watch Dogs to later this year.