Perfect iPhone 6s Screen Protectors for Klutzes & Fingerprint Freaks
A good iPhone 6s screen protector can mean the difference between picking your iPhone up and using it and taking an expensive trip to the Apple Store. Two new iPhone 6s screen protectors from Zagg arrive with better protection than ever — including one that offers 7X shatter protection for your iPhone 6s.
The Invisible Shield iPhone screen protectors have saved multiple iPhones in our house, and we're getting ready to test out these new iPhone 6 screen protectors and iPhone 6s screen protectors.
A good glass or Sapphire screen protector for the iPhone 6s keeps your screen safe without the poor touch experience and bubbles that you may find on cheap, low quality films that promise protection.
The InvisibleShield Sapphire Defense iPhone 6s screen protector is $49.99 and is available through Zagg. Using new Defense Matrix technology, this iPhone screen protector delivers seven times as much shatter protection. This means your iPhone will survive drops, bumps and scratches better than before.
With Sapphire protection this screen protector offers a glassy feel so that you won't notice there is a screen protector on your iPhone. Zagg tells Gotta Be Mobile that this is the, "First of its kind," screen protector that the company developed using aerospace-grade technology.
The Zagg InvisibleShield Glass+ iPhone 6s screen protector is $39.99 and includes advanced impact and scratch protection that will keep your screen safe in many situations. The smooth glass protector includes beveled edges for better clarity and great touch sensitivity.
The Glass+ iPhone screen protector includes oil resistant technology to keep fingerprints and smudges off your iPhone so you can use it without constantly trying to wipe away the proof that you've been touching the screen all day.
One great benefit to the Zagg iPhone screen protectors mentioned above is that if they are worn or damaged Zagg will give you a new screen protector for as long as you own your iPhone. This doesn't cover the iPhone, but it will keep your screen protected without the need to buy another screen protector.
Best iPhone 6s Screen Protectors
Zagg InvisibleShield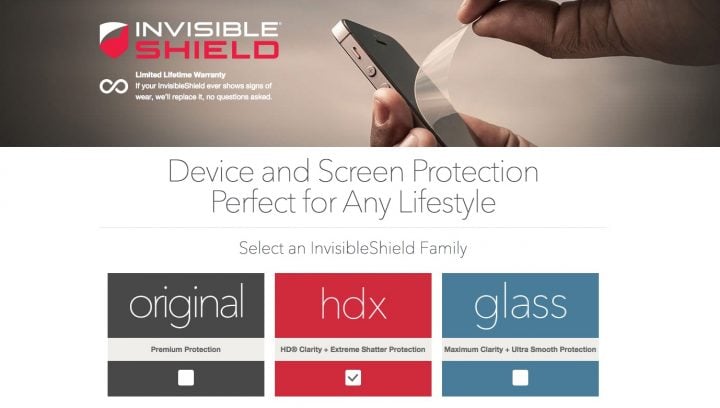 Perhaps the best screen protector you could get is the Zagg InvisibleShield, which offers some of the best screen protection on the market.
Furthermore, the InvisibleShield comes in three different models. The Original is Zagg's standard InvisibleShield, which is made out of a special material that's a lot stronger than the cheap plastic screen protectors you've seen.
Then there's the HDX, which comes with more clarity, as well as the same military-grade protection you'll want, but with a slightly higher price tag. Lastly, there's Glass, which is a tempered glass screen protector that gives you the same glass feel as the iPhone 6s screen itself so that your fingers stay happy, because there's nothing better than skin on glass.
Zagg's InvisibleShield screen protectors range from $15 to $40 in price and are well worth it.

As an Amazon Associate I earn from qualifying purchases.