Supercell's Rush Wars: Everything You Need to Know
Supercell just released the first beta of its all-new game Rush Wars. Here's everything you need to know about this ultra-competitive game from the developers of Brawl Stars, Clash Royale and Clash of Clans. And yes, it's a tower defense combat strategy game similar to all their other titles, which you'll either love or hate.
In August the company started teasing a new game, and as of August 26th, it's available as a beta in select regions. We're just hoping the beta doesn't take over 16 months like it did with Brawl Stars.
This is an exciting new game that might perfect if you're getting bored of Brawl Stars or the endless pay-to-win feeling in Clash Royale. That said, we're seeing loot boxes, microtransactions, and in-app purchases in Rush Wars, so it might be more of the same. Here's the teaser trailer and more info for those interested.
Supercell started testing Brawl Stars in 2018
We got the first teaser on August 23rd and the beta on the 26th of 2019
Beta only available in Canada, Australia, and New Zealand
Global Launch date remains a mystery
As you probably know, Supercell has successfully launched several different games for Android and iOS. Starting with Hay Day, then Clash of Clans, Boom Beach, Clash Royale, and more recently Brawl Stars. Every game is super successful, with Clash of Clans still being one of the highest-grossing mobile games on the planet.
Rush Wars Release Date & Beta
Unfortunately, we have absolutely no idea regarding when Supercell will release Rush Wars around the globe and for more devices. Furthermore, we're not really sure when the beta will be available to more people.
The company is always working on new mobile games, and honestly, we didn't even realize a new title was coming out this early after Brawl Stars. You can play Supercell's new game Rush Wars right now on both iOS or Android if you live in Canada, Australia, or New Zealand, but that's all.
Download Rush Wars for Android
We're expecting a broader rollout for more regions sometime in October or November, and likely a release date sometime in early 2020. That's pure speculation though. It's worth noting that Brawl Stars took nearly 19 months to arrive from the launch and beta to the release date. And while we're not expecting to wait that long again, nothing would surprise us from the company.
What is Rush Wars?
Taken right from the mouth of Supercell, Rush Wars is a heroic combat strategy game full of surprises like a laser firin' robot dinosaur and exploding arcade machines. Yes, it's basically a tower defense game, only with a few other elements to keep it fresh, fun, and exciting, with a bit of weirdness from games like Fortnite thrown in. We're referring to the Arcade Machine and Dinosaur, with that comment.
So how do you play Rush Wars? Well, you'll build, earn, or buy an elite squad of characters you unlock from the game's daily loot crates. Then, take your tough and mean team into the field to search for and attach gold mines. At the same time, people will be trying to attack your gold mines at the same time. So it's a tower defense game with an offense and a defense. The core gameplay mechanics and graphics look like a beautiful mashup of every other Supercell release combined. Honestly, that doesn't surprise me one bit considering how much money each game makes they create.
It looks like they'll push this as a tower strategy game, although they added a lot of competitive and multiplayer elements to help make it more monetizable. You can find, earn, or buy exciting characters, and take part in competitive team battles. Supercell made sure to keep some casual elements to Rush War so anyone and everyone can play it, but there are plenty of challenges for those die-hard players.
Rush Wars Features & Game Elements
Construct your ultimate attack squad to raid enemy gold mines and get mega-rich
Join a TEAM or start your own with friends (like a clan)
Fight in war and face off against enemy TEAMS from around the globe
Discover the Rush Wars universe by earning Free Boxes to unlock troops and defenses
Collect Commanders with special abilities to lead your squad into battle
Protect your Gold Mines from unwitting attackers
Discover new maps like MEGACITY and AREA 54 that feature unique effects
From the sounds of it, this might be another Clash Royale with way too many pay-to-win elements, but I hope I'm wrong. We can clearly see the multiplayer elements, not to mention the free boxes that unlock troops. Boxes which we're fairly confident the final release will let players pay for, if they want. Which ends up turning a good game into a game about whoever spends the most real money.
Supercell takes shots at its own Clash of Clans game, too, by describing Rush Wars as a fun game where you don't have to change or design a village and base, wait for troops to finish cooking or anything. Instead, you simply start collecting, building, and kicking butt.
Rush Wars Gameplay Video
We don't know too much about the game yet, although the company is slowly unveiling more information daily, not to mention talking about it over on Twitter. Here's a teaser video and gameplay trailer combined, giving you more information and a look at actual gameplay.
So far, we're seeing 7-8 different characters you can earn and battle with, but we expect that list to grow significantly over time. Brawl Stars only had 5-6 originally, and now they offer 25+ characters to fight with, unlock, or buy.
You can also head to YouTube and see real-time video footage from all the popular Supercell YouTubers. We're talking about Chef Pat, GamingWithMolt, and several others.
Other Details About Rush Wars
For now, just know that this game is brand new and things will take time. Expect a slow beta period where the game can and will change. Whether that'a tiny bit or end up drastically different from what we see in the videos above. Plus, those who are enjoying the beta will likely experience a few bugs, crashes, or gameplay problems. It is a beta after all. There will be growing pains for Supercell, and for players.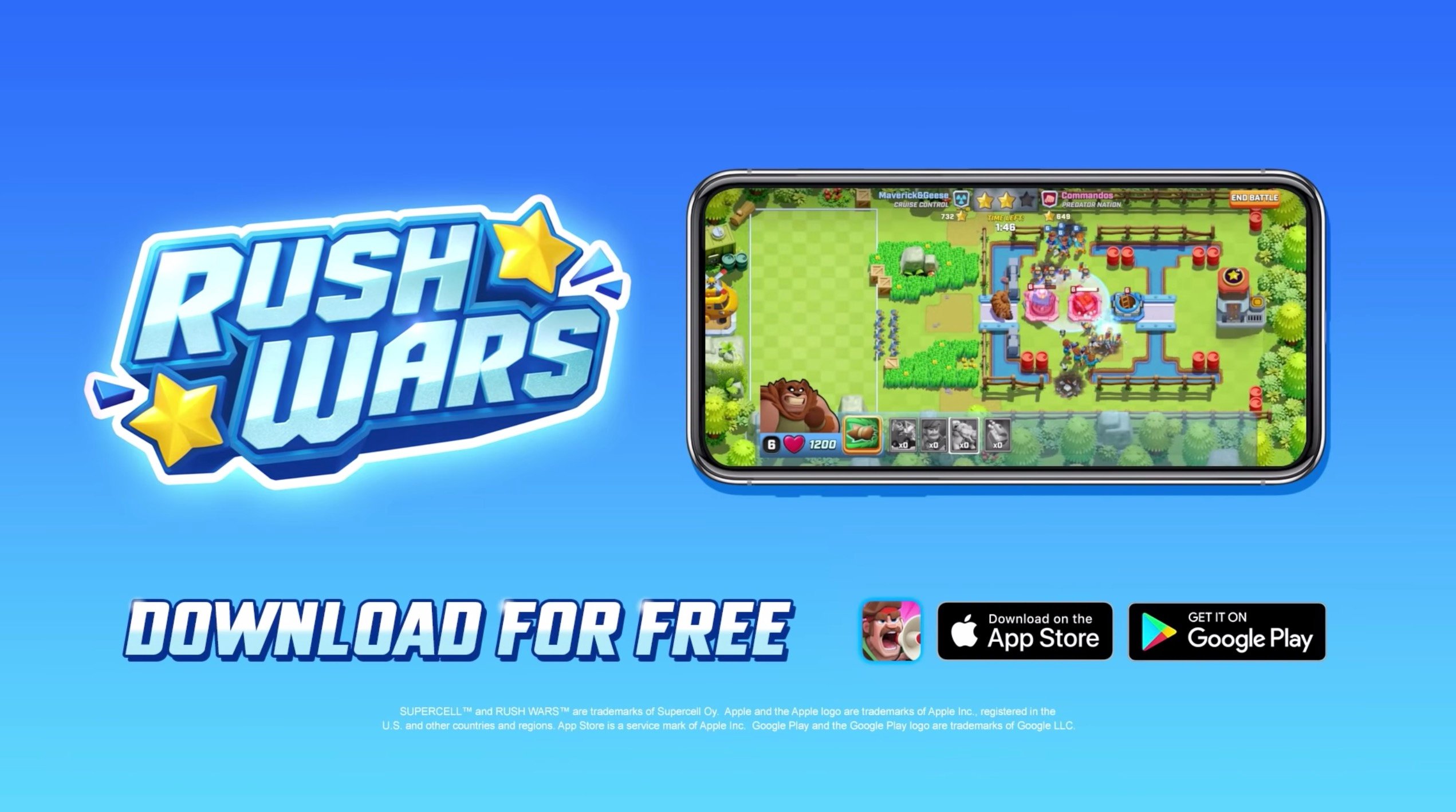 Your next question will likely be "Will Rush Wars ever get released?" and that's a valid question. Supercell is known for completely abandoning and canceling a game, even after a big soft-launch and beta, if they don't think it's up to the Supercell quality we've all come to know and expect. So, this game will either take off or get thrown in the trash and never talked about again.
Supercell is in a unique position when it comes to mobile games, as each title actually released ends up extremely successful. Whether or not Rush Wars will receive the same attention and fame as their other titles is a complete mystery. At the end of the day, this is a trusted game developer with a history of releasing some of the best games for mobile, and we expect the same from Rush Wars. So, download it from the links above, if you can, and stay tuned for more details.
We'll update this post the moment the Rush Wars beta comes to the United States.