SuperTooth Disco 4 Portable Bluetooth Speaker Announced
SuperTooth is no stranger to creating impressive bluetooth speakers, offering a variety of different models and sizes over the past few years, and this year at CES the company is finally determined to offer a speaker with punch, yet still be portable.
In the past the SuperTooth Disco series were large enough to not be extremely portable, but offered dual speakers for enhanced sound. This year, the new Disco 4 offers something much more portable, including a built-in handle, and is equipped with one capable speaker to keep things small and lightweight coming in just over one pound. Below we have a quick hands-on of the new design.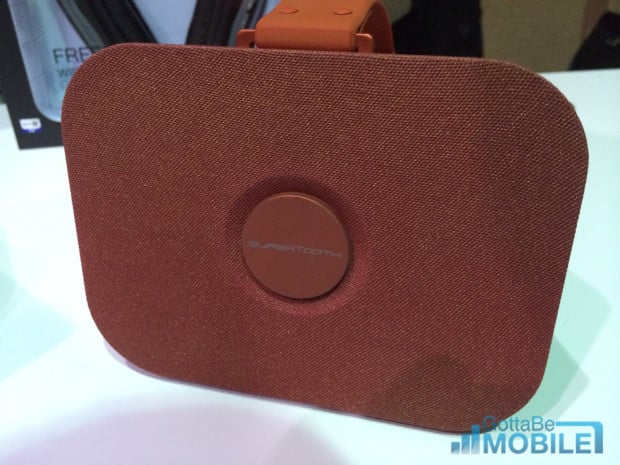 Pairing via Bluetooth 4.0 and connecting to our smartphones, tablets, and bluetooth enabled devices, the Disco 4 is set to offer exceptional sound, and still be small. This year they've integrated NFC pairing. Allowing a single tap from an Android NFC-enabled smartphone to instantly pair and make a Bluetooth connection, which should make enjoying the speaker easier for the masses.
The tech geek in the family won't need to help buyers pair a smartphone or tablet, as NFC will work with a quick tap and approving the connection right from your mobile device. Then of course being a portable bluetooth speaker another important factor is battery life, as the Disco 4 has an integrated battery. One which SuperTooth promised can handle nearly 12 hours of audio playback after only 2 hours on the micro-USB charger. However, the rating drops down to 3-4 hours if used a full volume.
The 8 watt bass reflex speaker is said to offer exceptional sound given the size and weight, and a quick listen on the showroom floor was nearly impossible, but was quite audible given the loud environment. Hopefully it will fill the room with sound like previous models, and is set to be available within Q1 of 2014.
No pricing details were revealed, but we can expect this smaller and more portable model to arrive in the next few months and hopefully coming in under $99.

As an Amazon Associate I earn from qualifying purchases.