Support: Another Reason Why Retail Stores Differentiate Apple from the Competition
Yesterday I wasn't happy at all when my new MacBook Pro wouldn't charge. After finishing up a project on battery and then using my TouchSmart PC for the remainder of my workday, I diagnosed the problem as a bad AC adapter. The only thing worse than a component dying after only a few months of use is when the computer costs $2,350.
Fortunately, I have a couple of spare MacBook adapters and plenty of computers at my disposal. Most consumers don't have this luxury and would be up a creek, especially if they were on a deadline.
When most consumer notebooks break down, getting a replacement part begins with a phone call to a support center, which is often overseas. Depending on the company and rep, they may or may not require you to send the notebook in for an evaluation before sending out a new adapter. In most cases, consumers don't even have a spare adapter laying around to perform a test, which means some would think it's a more serious problem. Those who aren't patient or unable to go a day without their PC would likely head down to their local electronics retailer and buy a third-party adapter or just leave the whole mess at the Geek Squad counter.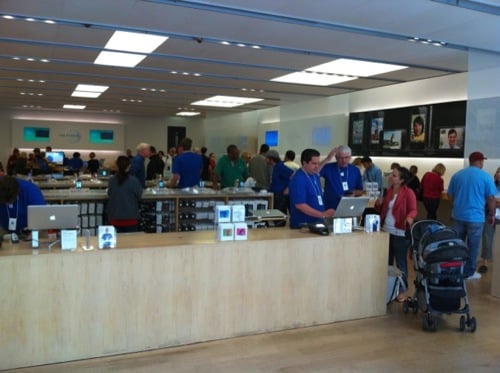 Instead of having to dial an 800 number, mail off my MacBook Pro or pay for anything, I simply walked into an Apple retail store. There are several to choose from in the San Francisco Bay Area, and I happened to be near one around lunchtime today in Palo Alto.
The Genius Bar didn't have anyone available to help for a few hours, so I simply asked a store rep for help. I told her that I was 100% sure the root of my charging problem was a faulty AC adapter and I asked if there was any way I could avoid having to wait for a Genius. She conferred with another Apple employee, who suggested she just give me a new Adapter and asked me which model I needed. She grabbed the proper adapter off the shelf, unboxed it and handed it over. I didn't have part of the adapter, the compact plug, with me, but she didn't care. She kept the box, stuffed my faulty adapter into it and said they'd just send it somewhere (my guess is a garbage dumpster). Within five minutes of walking into the store my problem was solved. They beat my expectations.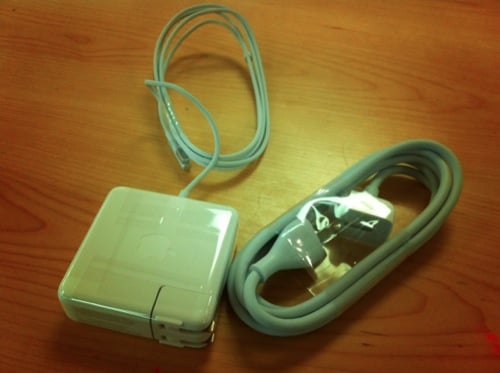 I wish other popular manufacturers had such service in a retail environment. A while back, Sony announced that its SonyStyle stores would have in-house service centers, but I've yet to see one since the flagship SonyStyle store in San Francisco shuttered its doors. It'd be great if there were somewhere local where I could have my HP Envy 15 repaired instead of having to send it off for four to eight weeks. I broke a corner of its lid off during CES 2010 when I dropped it and it remains broken on my desk. My insurance company's offered to cover most of the repair costs, but it's a hassle I've been too busy to deal with and I don't want to go that long without the machine. I called several repair shops and every one of them told me I'd have to send it in to HP. Apparently, the Geek Squad won't make physical damage repairs and suggested I just buy a new one.
Microsoft is still testing out its retail stores, but I don't think they'll be able/want to support the multitude of PCs issues. Would it be too much to ask for Dell, HP, Acer, Lenovo and Toshiba to have at least one retail store in major metro areas? Yes, I know it would cost a ton of money to set them up, but the costs could be offset by building customer loyalty and allowing consumers to speak to company reps, rather than Blue Shirts who will recommend competitive products because they cost a few bucks less, rather than evaluating customers' needs.
I use PCs and Macs of all kinds for different purposes and projects. But most people only have one. This level of instant support is just one reason why more and more consumers are making that only computer a Mac.

This article may contain affiliate links. Click here for more details.