Suprise Splatoon Wii U Bundle Release Details Arrive  
With the launch of Splatoon just weeks away, Nintendo is making it easier than ever for gamers to get their hands on everything they need to get going. This morning Nintendo revealed the Splatoon Wii U Bundle, an all-in-one package for anyone looking to pick up the game on May 29th.
Announced officially in a press release, the Splatoon Wii U Bundle is a single package that gets users a copy of Splatoon and Nintendo Land at just $299. Also included in the bundle is Nintendo's Wii U Deluxe video game console.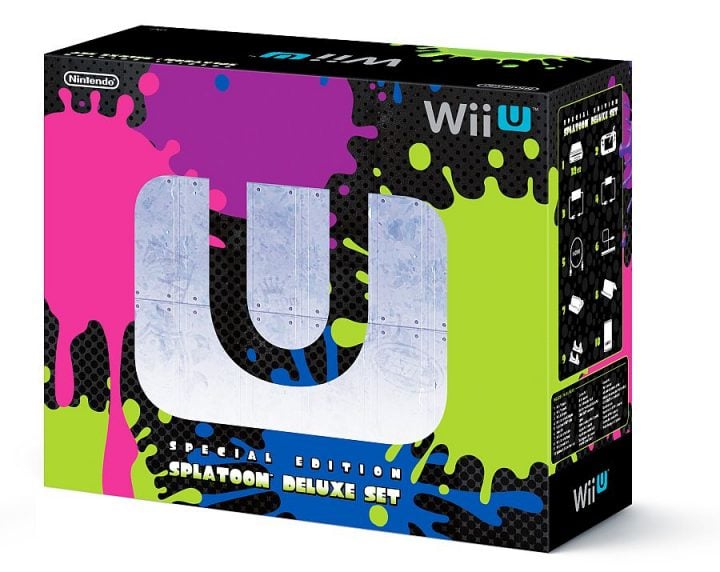 Nintendo Land will come preinstalled on the console, but Splatoon won't. Inside the bundle buyers will find a digital code that they'll need to redeem for their copy of Splatoon. Buying Splatoon separately would cost users a $59.99 before taxes. In North America, electronics retailer Best Buy will sell the Splatoon Nintendo Wii U bundle at its stores and website. Every Deluxe Wii U bundle includes a single standard black controller, a black Wii U console to match that controller, a console stand, a copy of Nintendo Land on disc, a GamePad stand and a single Nintendo Wii U GamePad controller.
The Nintendo Wii U GamePad is the rather tablet-like controller that offers physical buttons and a touch screen for a second-screen experience. It's completely unique to the Wii U and only one can be used at a time. Most Wii U games use the GamePad as a second-screen experience. For example, you can look at your items inventory on the GamePad instead of having to pull it up on your TV. The GamePad also includes television controls and dedicated TiVo DVR controls.
Splatoon is expected to be this year's must-have game for the Wii U. The game is a very unique take on the third-person shooters that dominate gaming today. Like other shooters, the object of the game is to rack up more points than the other team. That being said, players are a squid with a blaster full of their team's colored ink. The more territory your team controls the more likely it is that your team will win the game. When Splatoon players aren't busy blasting as much territory as possible with their colored ink, they can transform into a squid and quickly move around the level.  Splatoon first caught the attention of gamers during Nintendo's live stream video event during E3 2014.
Besides arena battles, there are ranked matches, and one-on-one matches for Nintendo Wii U owners who aren't comfortable playing other people online. Nintendo also describes the game's single player campaign as "robust." It'll be the campaign that teaches players the basics, like wall climbing, swimming and why you'd transform.
Read: The 10 best Xbox One, PS4 & Wii U Games from E3 2014
This new bundle is a huge deal for potential buyers of Splatoon. Most assumed they'd need to budget around $350 to play Splatoon when arrives on May 29th. Releasing a dedicated bundle makes it much more likely that people will pick up the game than before. Video game console makers are in the habit of releasing new consoles by themselves at launch, then adding free games and add-ons as the console ages. Microsoft uses this heavily for its Xbox One. Since arriving in 2014 it's come with a number of different mainstream titles.
To celebrate the launch of Splatoon, Nintendo has dedicated Amiibo action figures for the game planned to. These figures add new challenge stages and gear to Splatoon, according to the press release sent to Market Watch.
Read: New Amiibo Characters and Release Details Revealed
GameStop is already offering pre-orders of Splatoon at its stores for pick up on release day. Its shoppers will either need to already own a Wii U or purchase one separately.

This article may contain affiliate links. Click here for more details.