Surface 2 Deal Delivers Best iPad Rival Yet
A recent Surface 2 deal revealed this past weekend is turning Microsoft's tablet into an even more serious iPad Air and iPad mini competitor.
Microsoft revealed a Surface 2 deal on its website earlier today and it appears to be as good as potential Surface 2 buyers could have hoped for. As of right now the deal has slashed $100 off the Surface 2 in all of its forms. The savings starts with the 32GB Surface 2 and ranges all the way to the Surface 2 with mobile internet support that Microsoft revealed after it first launched the Surface 2.
In the abstract, any deal off the Surface 2's somewhat lofty price tag is a step in the right direction. Microsoft priced the tablet to be competitive with Apple's iPad. It would have been a fair fight, if Microsoft weren't also heavily advertising the Surface 2 with its external keyboard. It costs extra.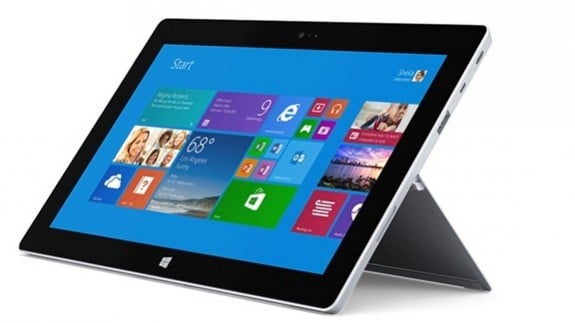 With this Surface 2 deal, the lowest amount users can pay for a Microsoft-made alternative to the iPad Air is just $349.99. That price gets users 32GB of built-in storage with the option to add more with a microSD card slot. By comparison, an entry-level iPad Air with 16GB of storage costs $499.00. Of course, users would need to still buy a keyboard separately. The Surface 2's touch keyboard costs $119. $129 gets users a Type Keyboard with back lighting. $199 gets users a Surface Power Keyboard with a built-in battery meant to extend time in between charges.
With a Surface 2 deal this large, it's entirely possible that Microsoft is preparing to more aggressively compete with the iPad as we head into the holiday season. A lower priced Surface 2 helps both Microsoft and users looking for a decent Windows tablet. When the Surface 2 launched last year it was the best of two worlds.
Users get all the battery life they need, a single USB port and a nice 10-inch screen to get things done on. On the other hand the Surface 2 suffers from the same stigma as the original Surface RT tablet that Microsoft launched in 2012 – it doesn't allow users to install Desktop apps. Apps coming to the Windows Store have helped make up for some of that, but it's still an issue holding the tablet back.
Read: Surface 2 Review
With today's updated pricing the Surface 2 with 64GB of storage now costs $449. The 64GB Surface 2 with LTE connectivity now costs $579.99. All Surface models include wireless internet access but the Surface 2 with LTE can connect to AT&T's network for internet access wherever users are – no smartphone tethering required.
Deals this large usually signal a company's intention to introduce new hardware. It's possible that's what Microsoft is doing here, preparing for a new thinner, lighter entry-level tablet, but we don't yet know for sure. There have been absolutely no leaks concerning new low-end Surface hardware. In fact, Microsoft has been relatively quiet about any other Surface devices besides the Surface Pro 3 tablet that it launched back in July.
It would make sense for Microsoft to introduce a new low-end Surface that includes the free moving kickstand and other extras from the Surface Pro 3. Making the instant note-taking features of the Surface Pro 3 available to low-end tablet buyers certainly wouldn't hurt sales either. Today, only the Surface Pro 3 can instantly open OneNote with the push of the button on the top of it's included pen.
There's good news for users who don't live near a Microsoft Store or who prefer not to purchase new gadgets online. Microsoft isn't making the Surface 2 deal temporary or requiring a special coupon code to get the savings. Instead, it's rolled it out as a permanent deal  everywhere. Today, the Surface 2 starts at just $349 at every retailer that sold the tablet. In the United States that includes Best Buy and Staples.