Surface 2 With LTE Arriving in Stores to Take the Fight to the iPad
Microsoft could finally be gearing up for a one-to-one fight with Apple's iPad. After years of only selling its Surface tablets with WiFi, the company is now preparing to launch a Surface 2 tablet with LTE compatibility.
According to WPCentral, some Microsoft Stores have already begun receiving Surface 2 devices complete with LTE. Essentially, the functionality brings the instant on internet connection that most smartphone users enjoy to the low-end of the Surface family. The outlet says that pictures sent to it confirms that the Surface 2 with LTE is "AT&T Network Ready." Unfortunately, the details sent to them didn't include any firm pricing or a potential release day.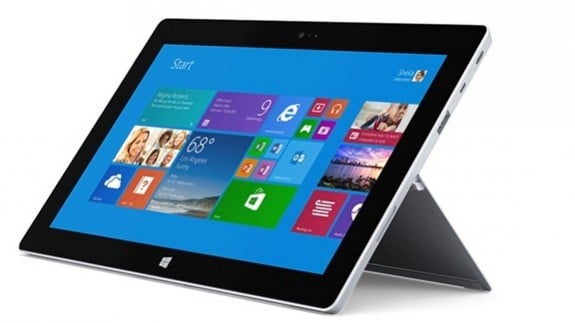 That Microsoft is preparing an LTE Surface 2 tablet isn't surprising. The company actually confirmed that users could expect a Surface 2 with LTE during a question and answer session on the social media site Redditt last year.
Read: Microsoft Bets on 4G LTE as Surface 2's Savoir
No, what's interesting here is timing. We're just a month away from BUILD 2014, the developer conference that Microsoft is expected to talk more about its future plans for its consumer products like Windows, Windows Phone and possibly Surface. If stores are already taking delivery of the devices than it's likely that it'll make the formal announcement during BUILD. The event is scheduled to kick off on April 2nd.
Launching the Surface with LTE is key to Microsoft filling out its portable lineup. Initially the company only offered the original Surface with Windows RT, the device was meant to be a direct competitor to Apple's iPad. Unfortunately, the tablet has now gone through two revisions without getting LTE compatibility so that users can browse the internet even when they aren't near a Wi-Fi hotspot.
The Surface was joined roughly five months later by the Surface Pro which boasts laptop innards in a tablet shell. While those tablets allowed Microsoft to address the Wi-Fi only and convertible tablet markets, it has yet to move into two key areas: tablets that connect to mobile data networks and tablets with smaller screens that can be comfortably used as an e-reader like the iPad mini and Google's Nexus 7.
While pricing for the Surface 2 with LTE is still up in the air, it's highly unlikely that Microsoft would price the tablet below the Surface 2 with Wi-Fi. It costs $449.

As an Amazon Associate I earn from qualifying purchases.