Surface 3 Coming to Do Battle with the iPad Air 2 
Microsoft could have a Surface 3 tablet coming to compete against the iPad Air 2 that plays to its strength: a full version of Windows with all the features that users expect.
A report from Microsoft-centric news site WinBeta indicates that Microsoft plans to announce what it's calling the Surface 3 at BUILD 2015. Allegedly, the Surface 3 will act as the replacement for the aging Surface 2, but have some key changes.
The Surface 2 itself was the successor to the original Surface. Microsoft designed both devices and the Windows RT operating system they ran to compete against simple tablets like the iPad and devices running Google's Android operating system. The Surface 2 and original Surface had great designs, but things fell apart after people used Windows RT.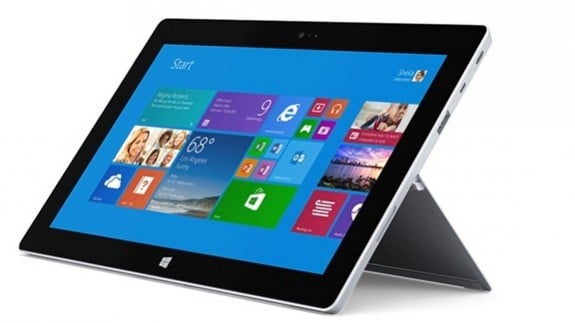 Reportedly, an Intel processor will allow Microsoft to finally offer with the Surface 3 something that it never could with its past incarnations: a full version of Windows 8.1. Having full Windows means users will be able to run Desktop apps beside apps downloaded from the Windows Store, which Windows RT couldn't do because of a limitation set by Microsoft.
BUILD 2015 kicks off in late April of this year and runs into May. Microsoft is expected to reveal other details about how it plans to stop take on Apple's iPad and iPhone lines. Additionally, we could hear more about how adding the Windows Store and Windows 10 to the Xbox One helps position the console amongst a new breed of set-top boxes like the newly cheap Apple TV.
If Microsoft does launch the Surface 3 at BUILD 2015, it's likely that the device will come loaded with Windows 8.1, its current operating system for notebooks, desktops and tablets. Later this summer it would then be upgraded to Windows 10 when it becomes available to everyone with Windows 7 and Windows 8.1 as a free upgrade anyway.
Windows 10 has tons of features perfect for devices like the Surface line. A new Tablet Mode allows the device to adjust its interface depending on whether there is a keyboard plugged in. Removing a keyboard — like the ones the Surface line supports — automatically turns on Tablet Mode. Plug the keyboard back in and tablet mode turns itself off. Users can run Desktop programs and Windows Store apps alongside each other. In fact, all the different devices that Microsoft offers will run Windows Store apps. It's the closest Microsoft has gotten to the simplicity of the iTunes App Store and iOS in general.
Read: Windows 10 10041 – What's New & Different 
Releasing the Surface 3 as described in this new report makes perfect sense for where Microsoft finds itself in the marketplace. Windows RT never found its footing. The first device was simply too slow and lacked enough apps to be a viable alternative to the iPad. The Surface 2, while faster, didn't dump Windows RT, saddling it with the same issue of having a less-than-decent amount of apps available to users. Microsoft did find some success with the Surface Pro 3 that it released last year. The Surface Pro 3 and this alleged Surface 3 share some interesting similarities.
The Surface Pro 3 uses a full version of Windows 8.1. That means that it actually can load both desktop and Windows Store apps. What's more, it keeps the single full-size USB port and port for detachable keyboard that the Surface Pro 2 did. A 12-inch display, thinner profile and freely adjustable kickstand have made it the première choice for anyone looking for a Windows 2-in-1.
How much this rumored Surface 2 will cost remains unclear. A specific price isn't included in the report. Presumably, the company could share some news about its Lumia line of smartphones and tablets at BUILD 2015 too.

As an Amazon Associate I earn from qualifying purchases.