Surface 3 Release Date Arrives 
With the Surface 3 release date here, absolutely anyone can finally pick up a version of Microsoft's latest tablet and chief iPad Air 2 competitor.
Microsoft's own retail stores had Surface 3 release openings and more this morning. Beginning today, anyone in the United States can order a Surface 3 directly from Microsoft's website. Best Buy is taking online orders for the Surface 3 too.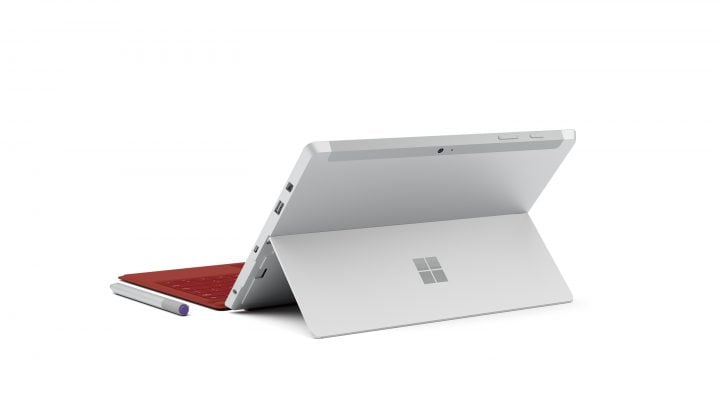 To be clear, the Surface 3 isn't just Microsoft's answer to high-end tablets. Microsoft is also hoping to take on the mid-range convertibles space, which doesn't particularly have a lot of competition in terms of design and features. It borrows many of the Surface Pro 3's iconic features and stuffs them into a more affordable package.
There are just two configurations of the Surface 3 available today for shoppers, with a two more on the way sometime later this summer. Each has different internals for different kinds of users. The entry-level $499 Surface 3 comes with 2GB of RAM and 64GB of storage. It's for people who need a nice tablet, but don't use their notebook PC for much video editing or intensive productivity apps.
Then there's the $599 Surface 3 with 128GB of storage and 4GB of RAM. The boost in RAM allows this Surface 3 to be used as a full laptop replacement more comfortable. For example, it can handle light video editing. Both Surface 3's can run less-demanding productivity apps like Microsoft Office just fine. Users won't have a problem with playing games downloaded from the Windows Store, but my right into issues if they attempt to play more detailed games like Star Trek Online or Star Wars: Knights of the Old Republic, for example.
The other two models are Surface 3s with mobile internet technology built-in. Unfortunately, Microsoft hasn't said anything about these Surface 3 models since it announced the other two back in April. Originally, it looked like we could expect the Surface 3 with LTE devices to launch sometime in mid-summer, but that's very much unclear at this point.
Every Surface 3 has a 10.1-inch high-definition display, 8 megapixel rear-facing camera, 3.5-megapixel front-facing camera and an Intel Atom processor. Each of the Surface line's signature ports are included. There's a keyboard port that runs along the bottom edge when the device is in portrait mode with its three-step kickstand out. There's a full-size USB port too. Microsoft did drop the charging port for a microUSB charging port. The Surface 3 is the cheapest Surface tablet to support Microsoft's $50 Surface Pens, which are sold as an extra add-on like the $129 Surface Type Cover. Users can mix and match different colored Surface Pens and Surface Type Covers if they want.
Office supply retailer Staples will offer the Surface 3 in store, even though it seemingly doesn't have very many Surface 3 devices available for pick up right now. For example, entire cities filled with Staples stores only have a single Surface 3 for $499 between them. Surface 3 accessories at Staples have to be ordered online. Best Buy has both Surface 3 models widely available, along with the Surface Pens and Surface Type Covers that users need.
Read: Surface Pro 3 vs Surface 3 – What You Need to Know
The Surface 3 joins Microsoft existing Surface Pro 3 on store shelves. The Surface Pro 3 starts at $799.99, but comes with a Surface Pen, a larger 12-inch high-definition display and an Intel Core i3 processor. It's this Surface device that's meant as a high-end notebook replacement and competitor to the MacBook Air.
There are rumors that Microsoft has plans to replace the Surface Pro 3 in its line-up soon. Such a move would make sense, Microsoft launched the Surface Pro 3 at an event last May before releasing it in late June. Presumably, the company has plans for an updated Surface Pro to launch with Windows 10 sometime during the summer.

This article may contain affiliate links. Click here for more details.