Surface 3 & Surface Pro 3 Are The Ultimate Windows 10 PCs
Microsoft hasn't upgraded its Surface 3 or Surface Pro 3 internally, but the company is giving users another big reason to purchase its ready-made tablets turned Windows 2-in-1s. Starting this week, when users purchase a Surface 3 or Surface Pro 3 Windows 10 will come installed already. This change makes them the best 2-in-1s running Windows 10 that you can purchase right now.
Quietly, Microsoft updated its Microsoft Store website to reflect the now automatic Windows 10 upgrade for Surface 3 and Surface Pro 3 users. Anyone who orders any configuration of the Surface from the site gets Windows 10 installed. There are no additional charges, no appointments to be made at a Microsoft Store and no hefty downloads taxing user's internet connection as they try to get set up for the first time. In short, it's an easy way to experience Windows 10 for those who plan on purchasing a PC, but haven't found one they liked or don't want to go doing the Windows 10 install for themselves.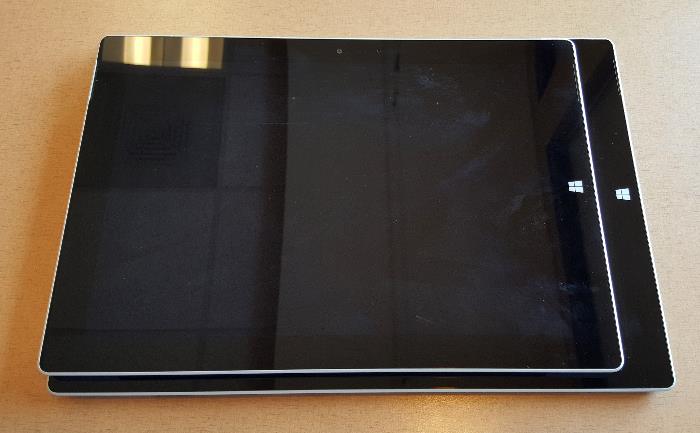 The Surface 3 starts at $499.99 and includes a 10.8-inch touchscreen display, 64GB of storage, a quad-core Intel Processor, USB 3.0, microSD card slot, headset jack and a kickstand that has three different positions. The Surface 3 can be a notebook replacement, but its made for reading books, taking notes and watching video too.
Read: Microsoft Surface 3 Review
In most ways, it's the perfect competitor to Apple's iPad Mini and iPad Air. Windows 10 includes lightweight versions of Word, Excel, PowerPoint and Outlook for users who need them. To edit documents and spreadsheets on anything with a display bigger than 10-inches users need a subscription to Microsoft's Office 365 service. A year-long subscription to that service comes with the Surface 3 out of the box.
The MacBook Air has the perfect competitor in the Surface Pro 3. It starts at $799 and includes a freely adjustable kickstand, USB 3.0, Mini DisplayPort, microSD Card reader, Headset Jack, 64GB of storage an Intel Core i3 Processor and an 12-inch display. The Surface Po 3 comes with Windows 10 Pro installed, allowing users to manage their own updates and get a few business-oriented extras. It also comes with a Surface Pen, which perfectly compliments the new handwriting support in Microsoft Edge. Microsoft Edge is the new web browser in Windows 10 that lets users take notes on web pages and more.
For a limited time, Microsoft is slashing at least $100 off the price of every Surface Pro 3 besides its entry-level model.
Read: Surface Pro 3 Review
To be clear, users do have to invest in a $120 Surface 3 or Surface Pro 3 cover if they want that. Though Microsoft showcases the Surface tablets with their keyboard, the two don't actually come together in any sort of bundle. The covers are completely optional since both Windows 2-in-1s have a USB port and support Bluetooth keyboards and mice too.
Read: Windows 10 Review – A Love Affair
Buyers will want the keyboards because its them that lend the Surface 3 and Surface Pro 3 a near notebook-like productivity while on the go. They lend themselves well to another big Windows 10 feature too. Since 2012 Microsoft tried to force fullscreen apps and the Start Screen on users whether they had a mouse and keyboard or not. Windows 10 has a feature called Continuum that detects when a physical keyboard is connected. When you connected a Type Cover to a Surface the device asks you if you want to switch out of Tablet Mode and use your apps in the Desktop. The Start Screen shrinks down into a Start Menu when Tablet Mode is off, for example. It truly is one of the best ideas Microsoft has had in the productivity space for some time.
The Microsoft Store offers free shipping on everything it sells.

This article may contain affiliate links. Click here for more details.