Surface 3 to Tackle the iPad Air 2 This May
Microsoft is taking the fight for tablet users to Apple's iPad Air 2, not with a newly cheaper Surface Pro 3, but with a Surface 3 custom-made for those looking for a Windows tablet and notebook PC.
Rumors about a coming Surface 3 have swirled for weeks, but it wasn't until today that Microsoft confirmed is iPad Air 2 rival was on the way. Microsoft surprised everyone when it announced the Surface 3 in a post on its Surface Blog this morning.
All told, the Surface 3 is a rethinking of what the entry-level Surface can be. Instead of relying on an NVIDIA processor and a version of Windows that limited app choices, Microsoft opted to embrace its past and present with the Surface 3. The Surface 3 has an Intel Atom processor that allows it to run desktop apps alongside new apps downloaded from the Windows Store.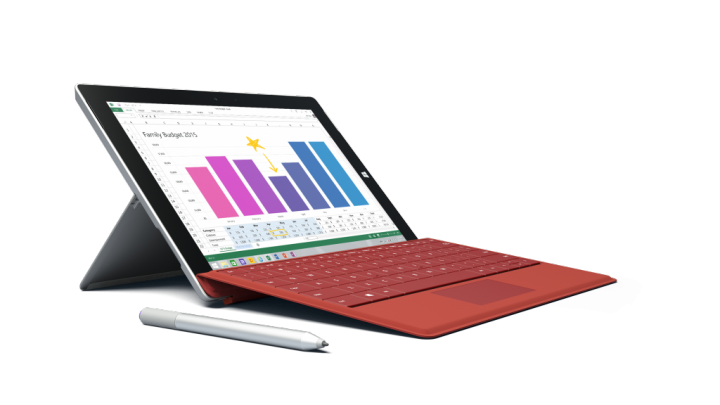 Dominating the Surface 3 is a 10.8-inch display that shares the same 3:2 aspect ratio as the Surface Pro 3. That change in aspect ratio makes a huge difference. Industry insiders criticized Microsoft for using a 16:9 ratio in its previous iPad competitors. Changing the display ratio adds more room to the top of the display, making working with today's apps more comfortable.
The new Surface 3 weighs just 1.37 pounds and includes a ton of tiny upgrades that add up to a better experience. The front face of the Surface 2 holds a 3.5 megapixel camera. Around back is an 8 megapixel camera that should capture better photos than the Surface 2 does today. Built-into the Surface 3 is a MicroUSB port for charging smartphones and other small devices. Luckily, Microsoft didn't remove the full-size USB port from the side of the device though. Strangely enough, it did kill-off the Surface Charging port in this version, meaning that MicroUSB port is how users will charge their device too.
Apple's iPad Air 2 offers built-in LTE connectivity so that users can browse the web away from home without connecting to public networks. The Surface 2 also offered it, but the Surface 3 is the first time it's been available reasonably close to launch. The Surface 3 with 64GB of ad Wi-Fi is $499. The Surface 3 with 128GB of storage and 4GB of RAM instead of 2GB is $599. Both of these models are expected to launch on May 5th. The two models with LTE connectivity aren't expected until June 26th and we don't yet have pricing.
All told, the Surface 3 is an upgrade over what was previously available. Only a few things stand out as questionable decisions. There's a built-in digitizes in he Surface 3, meaning users can take notes and draw as accurately as they can with the Surface Pro line for the first time. Unfortunately, the Surface Pen itself is a whopping $50 add-on. Microsoft is still forcing users who want a Type Cover to spend an extra $129, despite advertising the Surface line along with their covers as if they are included. Also, the kickstand on the back of the device isn't freely adjustable like the Surface Pro 3's kickstand. It has just three positions.
Read: Surface Pro 3 Review
https://www.theverge.com/2015/3/31/8317597/microsoft-surface-3-tablet-features
Microsoft is including a year-long subscription to its Office 365 service. Office 365 gives users access to Outlook, OneNote, Word, Excel  and PowerPoint. After that trial expires Office 365 costs as little as $6.99 a month or $69.99 a year.
Whether all of this will turn the entry-level Surface line into the juggernaut that the Surface Pro line has become remains unclear. It is clear that Microsoft has no intentions of letting the iPad Air 2's features and finish continue to propel it to victory over Windows counterparts.
Like all PCs running Windows 7 and Windows 8, Microsoft plans to upgrade Surface 3 to Windows 10 free when its available.

As an Amazon Associate I earn from qualifying purchases.