Surface 3 vs iPad Pro: What to Buy?
In years past, Apple and Microsoft were the bitterest of enemies. Apple blasted Microsoft's Windows operating system for terrible security and being hard to use. It said that Windows PC makers were putting out subpar machines, that didn't hold a candle to the high-end machines that it made. In turn, Microsoft let upgrades to its Microsoft Office productivity suite lag and dragged its feet on Microsoft Office for iOS.
Today's iPad Pro announcement is indicative of the two firm's more cozy modern relationship. Microsoft created the Surface line of tablets and PCs to grab attention away from Apple's iPad. Rather than focusing on looks, Microsoft focused on providing Surface buyers what they couldn't get on the iPad. The Surface 3 has a full-size USB port, Windows programs and a large 10-inch display. The new iPad Pro is a Apple's answer to Microsoft's growing relevance in the tablet space.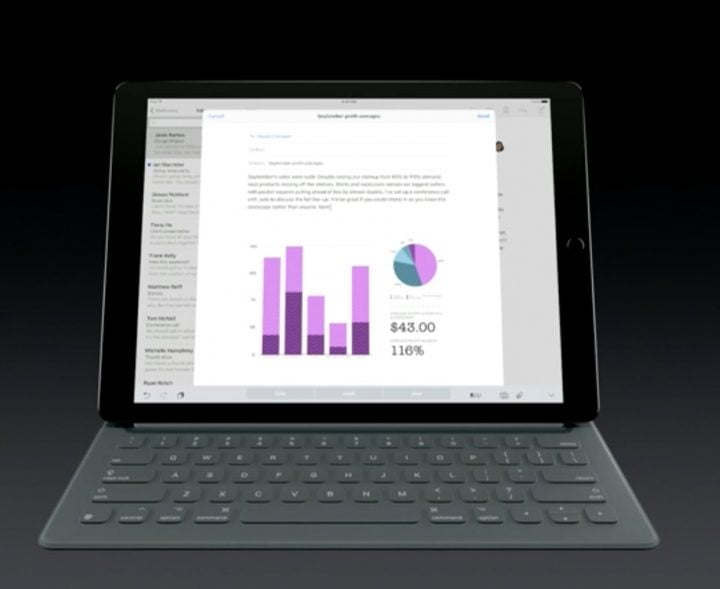 Read: iPad Pro Release Date & Price Confirmed
Here's how the iPad Pro and the Surface Pro 3 compare in terms of design, extras and pricing.
Surface 3 vs iPad Pro: Design & Internals
Microsoft didn't have much to go on with the Surface tablets. Every manufacturer who could was already creating entertainment tablets, so Microsoft focused on productivity. Its original Surface RT had a kickstand for propping up its 10-inch display. A full-size USB port made it easy to connect extra storage, printers and controllers. The Surface Pro 3 will get all sorts of mentions in comparisons to the iPad Pro, but Microsoft's entry level Surface 3 is the iPad Pro's biggest threat, I think.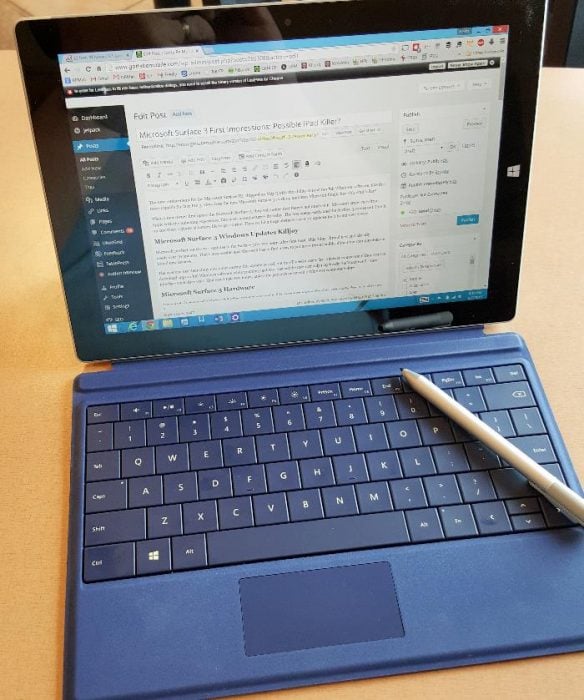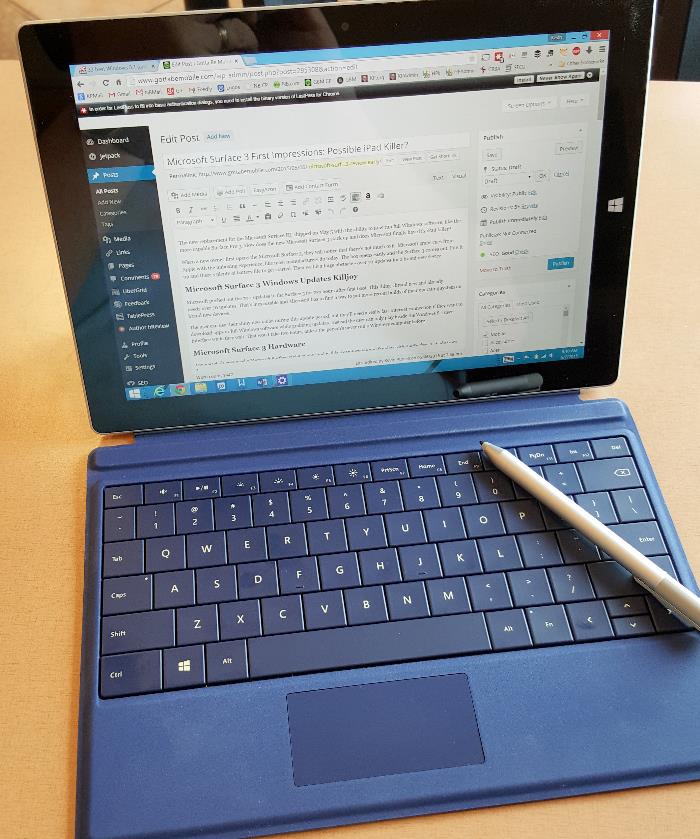 The Surface 3 has a 10.8-inch display with a resolution of 1920 x 1290, making it capable of playing back full HD video. Microsoft added a third position to its kickstand, and the base model comes with 64GB of storage. Inside is an Intel Atom X7 processor for running desktop applications. An expansion port on the bottom of the Surface Pro 3 allows users to attach an extra keyboard if they want. There's a front-facing 3.5 megapixel camera, a rear-facing 8 megapixel camera, a headset jack, a MicroSD card reader, a USB charging port and a year of Office 365.
Apple seems to have borrowed most of these ideas for the newly announced iPad Pro. The iPad Pro doesn't have a kickstand but does have a rather large 12.9-inch 2732 x 2048 Retina display. A 3RD Generation 64-Bit A9X Chip lets users do whatever they want – work or otherwise for 10 hours. That's the same as the Surface 3. Users who like to take pictures still can with the iPad Pro's 8 megapixel camera. There's a Touch ID fingerprint reader built-in below the device's display an LTE compatibility for users who need it.
The Surface Pro has two front-facing speakers, but the iPad Pro goes with four. A special connector on the bottom of the iPad Pro allows it to communicate with accessories.
Surface 3 vs iPad Pro: Accessories & Productivity
To be clear, users accessorizing the iPad Pro is what Apple is counting on. Like with the Surface 3, to get the most out of the iPad Pro you need the right accessories. The Surface 3 supports Microsoft's Surface Pen, a $49 accessory that lets users skip their lockscreen and take notes immediately, navigate Windows or draw. The iPad Pro has a pen of its own, called the Apple Pencil. It's $99 and allow users to do take notes too.
To really keep users productive Apple has added the Apple Smart Keyboard to its line-up. The $169 accessory connects to the iPad Pro using a special port and includes a fold out kickstand of its own so that users don't have to fiddle with an internal kickstand if they don't want to.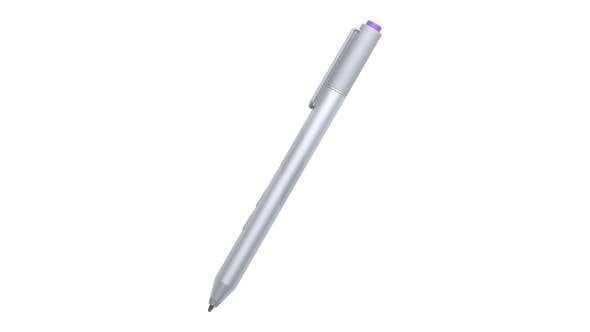 No doubt, physical keyboards let users stay productive on the go, but to be of any actual use, the software has to be there. Apple revealed in June that it'd be introducing a split-screen multitasking system for running more than one app at a time. Strikingly similar to what's available in Windows 10. iOS 9 will come with the new iPad Pro.
Surface 3 vs iPad Pro: Specs
| | |
| --- | --- |
| iPad Pro | Surface 3 |
| 3rd Generation 64 Bit A9X Chip | Intel Atom X7 Processor |
| Four Speaker Audio | Stereo Speakers |
| 12.9 inch display (2732 x 2048) | 10.8-inch display (1920 x 1280) |
| 8MP iSight Camera | 8.0 megapixel rear-facing camera, 3.5 megapixel front-facing camera |
| 802.11AC | 802.11AC |
| Touch ID | MicroSD Card reader, full-size USB port |
| Apple Pen Support ($99 add-on) | Surface Pen Support ($49 add-on) |
| Smart Keyboard Support ($169 add-on) | Surface 3 Keyboard Support ($129 add-on) |
| Starts at $799 | Starts at $499 |
Surface 3 vs iPad Pro: What to Buy?
Being an direct, but low-cost competitor to the iPad Pro gives the Surface 3 some advantages. The Surface 3 has a smaller screen, but basically matches what the iPad Pro offers. What's more it has a few advantages: built-in support for external storage, a full-size USB port for connecting to devices, Windows Apps and support for Desktop Windows Programs. To top it all off, users can get it for $499 before any accessories. Add the $50 Surface Pen and the $129 Surface 3 Cover and it isn't cheap.
The funny thing is that with accessories it is still cheaper than the iPad Pro. The iPad Pro comes with 32GB of storage for $799. The Apple Pencil is another $99 and the Apple Smart Keyboard is $169.
If you were considering a Surface 3 already, you should still buy one. It's cheaper, comes with more storage, and is compatible with all the apps you already have. The slightly smaller screen should be more manageable too. If you were already an iPad users and finally considering unloading your notebook, your choice is clear: the new iPad Pro is made just for you.
Apple says the iPad Pro and its accessories will go on-sale this November. The Surface 3 is already on sale.

This article may contain affiliate links. Click here for more details.