Microsoft Surface Book Impressions
Last we heard from Microsoft's Surface teams, the ideal replacement for a notebook was its Surface Pro 3. An adjustable kickstand and lockable add-on keyboard gave users the best of both worlds: a reliable tablet that could run almost any app that a user throws at it, and thin notebook PC with touch. Today Microsoft revealed the Surface Book. It delivers the same experience that the Surface Pro 3 does, it just goes about it a completely different way.
Instead of an add-on cover with a built-in keyboard, the Surface Book has a full hardware dock. This dock looks so notebook like that it wasn't until Microsoft explicitly said that the display could be removed and used as a tablet in its own right that those in the audience fully grasped what the company was planning to announce.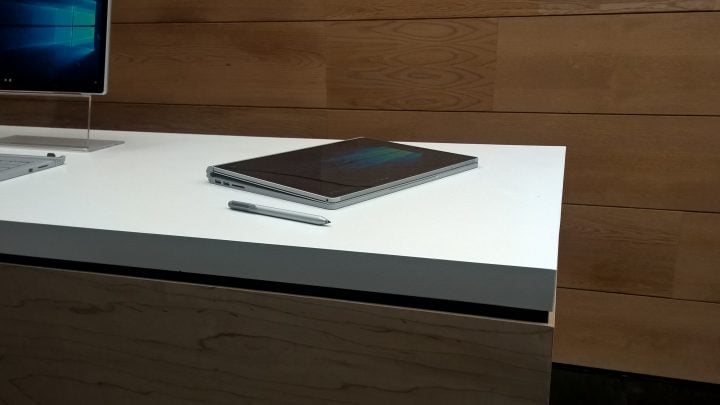 Surface Book Impressions: Hardware
The Surface Book was all anyone could really talk about at the Windows 10 Devices Event this morning. The hands-on area filled with people trying to admire Microsoft's latest notebook replacement as soon as they could. Surface Book uses the same magnesium frame that previous generations of the Surface did. Microsoft even kept the slick silver finish. That's roughly were a lot of the similarities between this and past devices in the Surface Pro line end.
The Surface Book aims to be even better at being a notebook that the Surface Pro 4. That mission necessitated adding a bigger display. The Surface Book's display is a robust 13.5-inches from corner to corner, with Microsoft keeping the same app and program friendly 3:2 aspect ratio of the Surface Pro 3.
While closed the Surface Book has a wedge shape. The Surface Book's PixelSense 3000 x 2000 pixel Display and hardware dock close, but there's a gap in-between the keyboard and display on the black half. That's due to the rigid, unorthodox hinge mechanism that holds the Surface Book's display to the rest of its body.
The base of the Surface Book holds a spacious trackpad and metal keys that are satisfying to push down on. There are two USB ports, a full-size SD card reader, Mini Display Port, dual microphones and a front-facing 5 megapixel camera. Microsoft also throws in an 8 megapixel rear-facing camera with auto focus.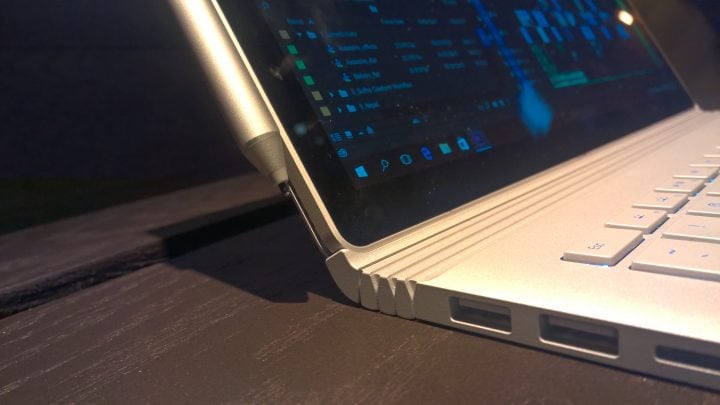 Microsoft will let shoppers choose an 6th Generation Intel Core i5 or Intel Core i7 processor with storage options ranging from 1TB to 128GBs. There'll only be two memory options: 8GB and 16GB.
Surface Book Impressions: Thoughts
The Surface Book splits into two halves and that's where I started my hands-on. I wanted to see how satisfying the mechanism for attaching and detaching as. I was anxious to gauge how much the screen moved as you typed on the dock. I've seen docking mechanisms that just weren't strong enough. I've tried machines out that have wobbling displays if you type away on their keyboards too hard.
The hinge looks unorthodox from afar, but I'm happy to say it does the job well. At least, it did at Microsoft's Windows 10 Devices Event. I quickly typed a short paragraph to see if my eyes would have to compensate for a wobbly display. They didn't have to. Opening and closing the display felt nice too.
Demo leaders didn't have a Microsoft Account inside the Surface Book. As such, I couldn't test how video look on its upgraded display. I did get the chance to play around a little with professional editing tools taking advantage of the NVIDIA GeForce 8G graphics card inside the base. The Surface Book offloads GPU intensive activities to the base when its docked. When undocked users rely on the Intel HD 520 graphics and Intel Core i5 or i7 processor inside the tablet itself. There wasn't enough time to judge battery performance or program performance, honestly.
There was enough time to judge its design and weight. The Surface Book weighs 3 pounds when docked with its keyboard. The maybe gets Microsoft into a bit of trouble as the Surface Pro 4 weighs just 1.69 pounds. Microsoft hopes that users undock the screen and flip it around when they want to keep their keyboard dock powering the experience. The weight worries me and the gap between the display and keyboard when the Surface Book is closed worries me too. I can imagine random things finding themselves in between the gap.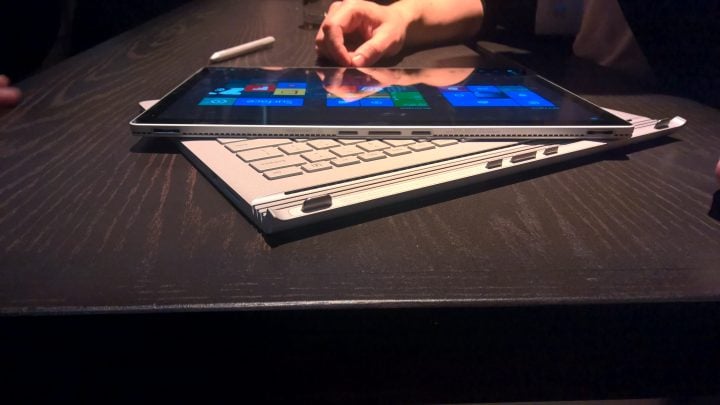 On the other hand, the gap does create a great angle for writing and handling the device like a book with a cover that's folded. It could be a fair trade-off for better ergonomics.
Read: Surface Book Coming to Slay the MacBook Pro
Microsoft opened Surface Book pre-orders this morning on its Microsoft Store website. The most basic Surface Book configuration will cost shoppers $1,499. Adding more storage and a Core i7 Processor boosts that price. The Surface Book scratches the same itches that the Surface Pro 3 did, but for a new class of users that demand performance. There's nothing I saw or felt this morning that leads me to believe that Microsoft won't also find success with the Surface Book. What's more, Microsoft includes the dock with the Surface Book, something it doesn't do with the Surface Pro even today.

As an Amazon Associate I earn from qualifying purchases.