Surface Book & Surface Pro 4 Problems Plague Release
Surface Pro 4 problems seem to be all that those who picked up the MacBook Air alternative can discuss this week. A number of users are reporting issues with it and the Surface Book ever since Microsoft began selling them this past Monday.
Surface Pro 4 and Surface Book buyers began reporting issues with their devices just hours after they went on sale. In fact, users reporting Surface Pro 4 problems effecting their displays and settings are beginning to fill the Microsoft Answers Community. The Surface Pro 4 is Microsoft's most aggressive bid to dethrone the MacBook Air yet. The Surface Book is a MacBook Pro alternative that has a discrete graphics card in its base. Its display completely detaches from its notebook body, giving users a 13-inch Intel Core i5 or Intel Core i7 tablet to take with them.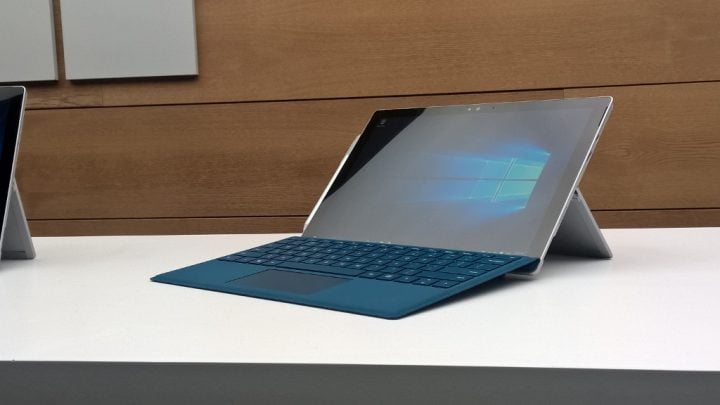 The Surface Pro 4 problems that people are running into mainly focus on software and not build quality. One user reports that when they're scrolling through some sites the hue of the Surface Pro 4's screen shifts from white to slightly blue. "Just got my Surface Pro 4 and noticed a bug where on white pages in forums and I've read this happening on Facebook app, where the hue is blue and when scrolling to a point then turns green, then further down turns purple. Scrolling back up does the same color changes in reverse," user Eminent 1 says. Since this issue was reported on Tuesday, others have chimed in asking about a fix for this bug. Gotta Be Mobile can confirm that this is a problem with our own Surface Pro 4 on some web pages, like Facebook within the Edge web browser. Some users say that this happens on the Surface Book too.
Also causing Surface Pro 4 problems for users are the drivers meant to power the device's 12.3-inch display. Users in the Ask Community say that their display frequently flickers before informing them that a software driver failed. Windows 10 automatically recovers from the driver error, but there's still the notification and momentary flicker. Again, Gotta Be Mobile has first hand experience with this problem.
In both cases, Microsoft's agents in the Answers Community haven't provided fixes for either issue. It's seems that there's nothing for Surface Pro 4 and Surface Book users to do except wait for Microsoft to provide fixes. Typically, Microsoft does this with a firmware update. Previous updates for the Surface Pro 3 and other devices have made them more stable and reliable compared to when they were released. Certainly, these issues don't appear to be so severe that anyone should cancel their Surface Pro 4 or Surface Book pre-order. It is helpful to know what issues are software related so that users don't end-up returning their Surface devices for something that could be fixed within a few hours or days.
For its part, Microsoft has already updated the Surface Book and Surface Pro 4 with new firmware. This firmware update arrived on Monday, but centered mostly on providing the Windows Hello feature that Microsoft promised users at its Windows 10 Devices Event. Windows Hello lets users login with just their face.
Another fix in that firmware update "improves the overall display stability," according to Microsoft's own release notes. It's not yet clear if it was this update that's causing issues or whether it simply didn't go far enough in addressing display stability for the Surface Book and Surface Pro 4.
The Surface Pro 4 is thinner and lighter than the Surface Pro 3 while providing a bigger, higher-quality display. It use Intel Skylake processors and an updated cooling system to produce less heat than in older models. The cheapest version of the Surface Pro 4 costs $899 and doesn't have a fan. The Surface Book starts at $1499. All versions come with a detachable display, and beefier graphics embedded into their base. The device automatically switches between integrated graphics inside and the batteries, ports and graphics card inside the base when connected together.